What a week! Traveling. Visiting places I've dreamed of seeing for years. Emotional ups and downs from the news back home. Great food. Incredible times with friends. Car fatigue. Missing the boyfriend.
I'm so filled with happiness and joy for my LGBT friends. That is the most important emotion this week. But I've also felt very low reading some of the comments and posts made by people who don't want their freedom and rights shared by everyone. It's hard to not feel disheartened. The loudest message coming out of the Christian community in the past few years hasn't been one of love or kindness or any of the teachings of Christ, it's been a message of hate and judgment and fear. I'm thankful for the many people across many religious communities who have been shining their light of acceptance and love for all – I hope their voices and lights keep growing and eventually overtake the messages of hate. Love won – as it should. Equal rights and freedom won. Our country is great because Church and State are separate: the same freedom that allows us to worship any god we choose also allows every American the freedom to make their own choices regarding whether to practice religion or not, and which one. You don't need to study history to realize why that's critical to being a free country – you only need to read global news to see the devastation that happens in countries that don't have this same freedom.
So I'm joyful and taking time to appreciate this landmark moment in history. But I'm not overlooking the work that still needs to be done in the U.S. for equal rights and acceptance for all – we're still living in a country where people are disrespecting the memory of people killed in a horrendous act of terrorism and tragedy by arguing that a symbol of white supremacy deserves to stay flying above public buildings. We still live in a country where many groups of people are denied rights, respect, opportunity, and/or freedom. We have a lot of work still to do. Let's rejoice in this victory in one important battle, but keep fighting the good fight.
//
I'm still on the road – I'm writing this from my friend Emily's apartment in Boston, so I'll just provide a quick update on book/media consumption this week: I've just finished Goodbye Stranger – Rebecca Stead's upcoming middle grade novel (Aug 4), and like her other books this one is a real treat. I'll post a full review closer to the publication date. I'm also in the middle of several other books – Modern Romance by Aziz Ansari, The Selected Journals of L.M. Montgomery, and re-reading Are You There God? It's Me, Margaret by Judy Blume (for my unofficial participation in the awesome BlumeALong).
Last week was pretty quiet on the blog due to travels, but I did post a review of The Shore by Sara Taylor.
I'll be sharing a full post from our trip to Prince Edward Island soon, so I won't include a ton of photos in this post, but I will end with a photo of the sunset over Charlottetown from the deck of our final B&B on the island: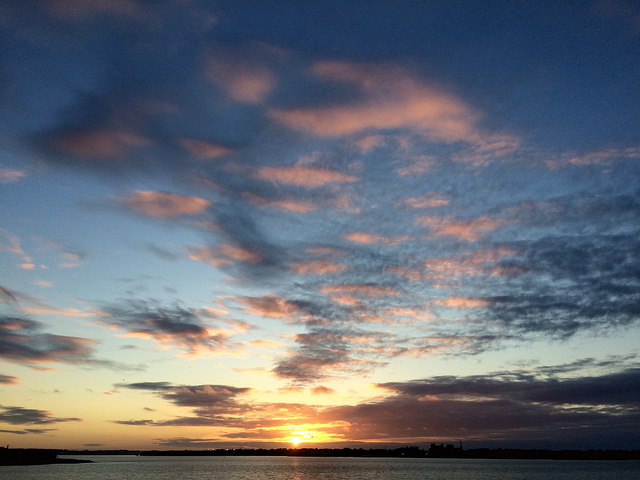 I hope everyone had a great week! What's new?