It's been a wonderful week. I met my friend Ashley's adorable little girl, Sofia. At just over 8 pounds, she's 2 months old and weighs as much as my little brother did when he was born! She's so tiny and cute. Yesterday we headed out to the beautiful New Jersey suburbs for a BBQ at my friends Joe & Seth's new house. We had such a lovely time with them, and got to catch up with many good friends. They also have three incredible dogs that add joy to everything around them: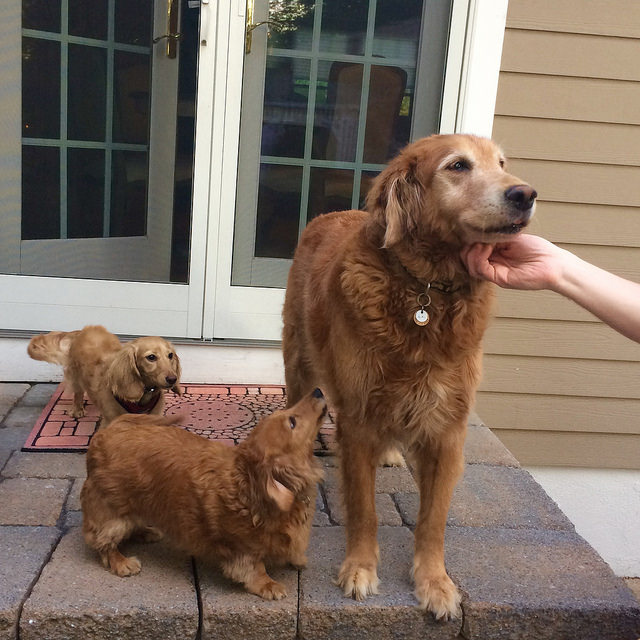 Tonight's agenda includes meatballs, mashed potatoes and West Wing.
//
This week I posted a review of 10% Happier by Dan Harris, shared a recap of Book Expo America 2015, compiled my "Polysyllabic Spree" for May – books bought and read last month, and shared a travelogue of my recent trip exploring my home state, Michigan.
READING
I'm nearly done with The Shore, which I've really been enjoying. I have two stories left, and I don't think I'll know how I feel about the book as a whole until I see where the last two stories go.
WATCHING
Graham and I saw Mad Max on Monday, and I liked it despite the fact that I had to cover my face with my hoodie for large portions of the movie (I'm squeamish with violence). It's visually stunning, and I think we need more guitars that shoot flames in real life.
LISTENING
I'm listening to Animal Wise by Virginia Morell. I started this a while ago and didn't finish it for some reason, so I'm booting it up again. Podcast wise, I still can't get enough of the Dear Sugar Podcast.
LINKING
I like this post on Farnam Street about the Do Something Syndrome. It fits in with mindfulness training about trying to "respond" instead of "react." Being more mindful isn't about not acting or not doing – it's about being present and making sure our actions are thoughtful responses instead of emotional or fearful reactions.
18 Birds Nesting in Unusual Places (via BoredPanda)
A Meet-Cute story from Humans of New York – a reminder to not be afraid to be bold (or to be bold on someone's behalf).
That's my week! It flew by. What's new in your world, friends?