May was an ok reading month. I was hoping to read more, but I did read some good stuff this month. Let's take a look!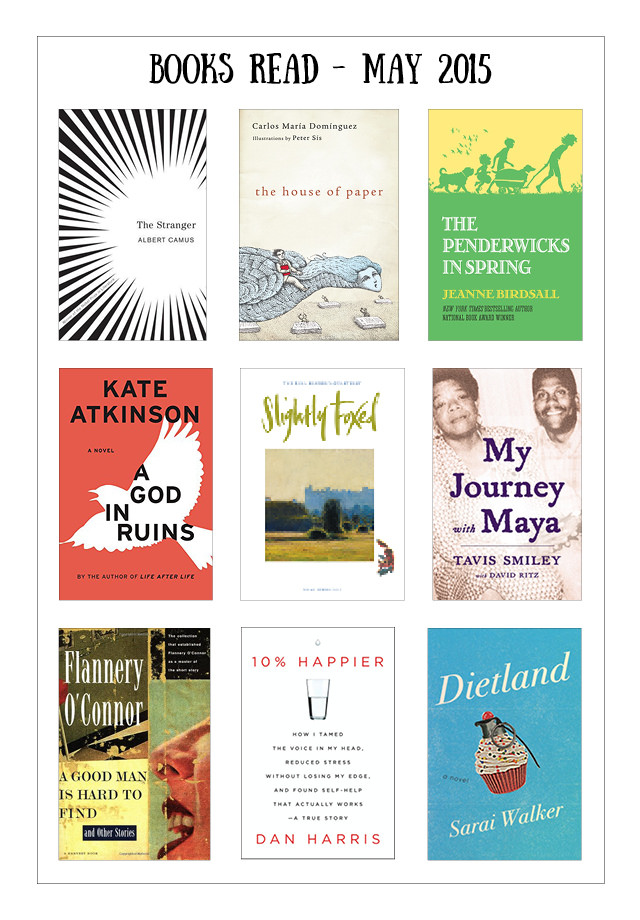 Books Read: 9
Already reviewed:
FICTION
I finished listening to the audiobook of The Stranger by Albert Camus, which I started during the Readathon in April. It's an interesting novel, and I'm glad I read it. I think it would be perfect for a book club discussion – there's a lot in it to unpack. I also loved Camus's writing – it's simple and beautiful.
I'm a bit ashamed to admit that before reading A Good Man is Hard to Find, the only Flannery O'Connor I'd read was the individual title story from the collection. I've owned this since 2007, and am trying to make an effort to read more of the things that have been sitting on my shelves for years. I thought her stories are marvelous; they are dark and gothic and perfect for hot summer days.
The Penderwicks in Spring is the fourth Penderwick book, and I think it's my least favorite. However, that doesn't mean I didn't like it – it's still a fun treat and a wonderful kid's lit novel. It's just slightly below the others for me because I thought the resolution of the main conflict was a little strange. It was dealing with really big life questions, which I think kid's lit can do very successfully, but I'm not sure the resolution was as strong as it could have been.
Dietland by Sarai Walker got me out of a mini-reading slump, I devoured it in less than 24 hours. There's so much good in this one: positive body image redemption, characters you want to be friends with, a feminist revenge fantasy, and an absolute page turner.
NON-FICTION
I've decided to count literary quarterlies as books read when I read them cover to cover. I've written before about how much I love Slightly Foxed, and issue #45 was no exception. I always enjoy the meta experience of reading about reading, and Slightly Foxed provides that, with an added element of educating me about a lot of interesting things I didn't know – the essays often talk about the author's real life place in history and the circumstances surrounding their work. Each issue is an absolute delight.
I heard about My Journey With Maya when Tavis Smiley was a guest on the Daily Show. I was drawn to his memoir because I thought it would be interesting to hear an account of someone who was in the inner circle of Maya Angelou – they were good friends, and had a mother/son or mentorship relationship. I listened to the audiobook, which is how I prefer to read most memoirs – I like the conversational tone. This one started off a bit slow – he begins by sharing his initial interactions with Maya while they were getting to know each other. During these parts I was left feeling that I would enjoy reading Maya's firsthand accounts of her life more than hearing it through someone else's words. But it picked up about 1/3 of the way through, when he begins to share how Maya's advice helped him face his own challenges. It's worth a listen if you love Maya as well, and the audiobook is a good format.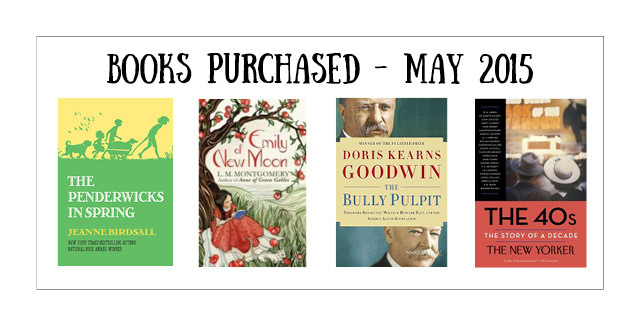 I didn't know there was a new Penderwicks book until I saw it on the shelf at BookCourt (I don't follow many Kid's Lit blogs these days), and I bought and read it immediately. I'm nearly done re-reading the entire Anne of Green Gables series, and I'd like to start the Emily series next. I picked up this beautiful edition at a great indie bookstore in Petoskey, Michigan. I've had my eye on The Bully Pulpit since it came out, and when I found it in a bargain section for $9 I couldn't resist it. I also might get the audiobook so I can read along or swap between the two – it's narrated by Edward Herrmann.
Last but not least, I picked up The 40s: The Story of a Decade. It looks wonderful – it's a collection of writing from the New Yorker during the 40s that have been selected and collected to help define the decade. It includes fiction, non-fiction, entertainment reviews, and poetry, and includes introductions from current New Yorker contributors. It's the kind of book that always hooks me and then sits on my shelf unread, so I'm going to try to change that and actually read this one.
//
So that was May in books! (Not including all the incredible books I took home from BEA.) I'm hoping for a better reading month in June.