Hello and Happy Sunday! Graham and I drove back from Michigan on Friday and Saturday. We split the 12 hour drive in half, which was much nicer than doing it all in one go like we did on the way there! We're home in Brooklyn, and it's going to be a busy 3 days leading up to BEA.
We enjoyed our last week in Michigan, the weather was glorious and we took my family's wonderful dog Betsy out for a lot of walks. I also got a bit of lovely reading time in the hammock.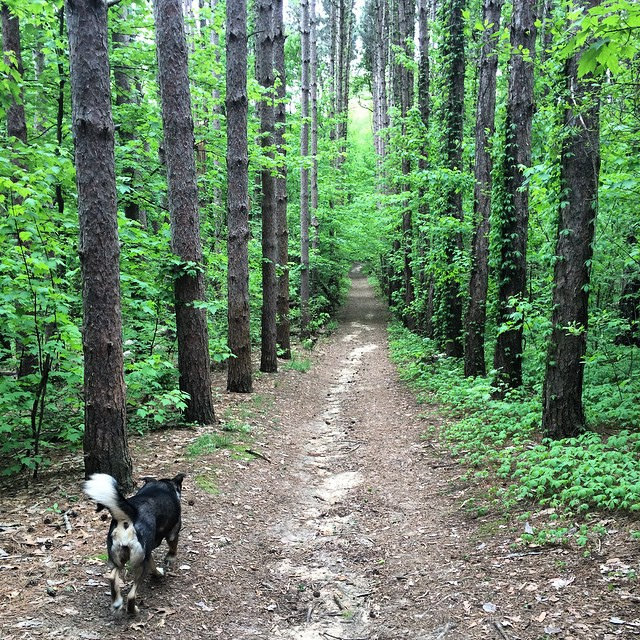 Housekeeping news: Some of you may know that in the sidebar there's a place to subscribe to every post via email. If you'd like to receive an email with the full content of each new post as soon as I post it (about 4-6 times per week), that's the place to sign up. But I also wanted to add an option to subscribe to a digest newsletter, where you can receive one email per week with a list of links to posts from the following week. I've created a Tiny Letter account to be able to offer this feature, and if you're interested you can sign up here. I'll be sending the emails out personally every Monday, and I'll also share a preview of what new posts you can expect to see during the upcoming week, as well as a fun quote or link. This is very new to me, so if you have feedback or suggestions, please let me know!
//
This week I launched a new page here on the blog, a NYC guide. When friends, or friends of friends, are planning vacations in New York I'm often asked for tips, and I love to send emails filled with recommendations and lists of my favorite things in the city. This page is a cleaned up, expanded version of those emails. I'll update it periodically with new recommendations, and will be adding new sections for NYC during the holidays, NYC with kids, and advice on finding lodging. You can find the permalink here, and it's always accessible in the nav bar as "NYC".
I also posted my favorite first lines of novels, my top ten favorite book covers, and the first part of my Peruvian adventures travelogue.
READING
I'm almost done with A Good Man is Hard to Find by Flannery O'Connor. I haven't decided what I'll start next, I brought so many great books back from Michigan!
WATCHING
I'm a morning person (to a degree) and it's hard for me to stay up late to watch TV without yawning uncontrollably and toppling over into a snoozle. I love late night TV, but I usually stream it the following evening. Nevertheless, I was determined to watch Letterman's last three shows live, and I'm happy to report that I succeeded!
I grew up watching Letterman – he has been on the air longer than I've been alive. His show is the first show I remember watching and it was very bittersweet to watch the final episodes. I'm grateful for all the entertainment he's provided us over his career. I'm also grateful I was able to attend a taping of the show once, on my 23rd birthday in 2007. It ended up being a very memorable day: we ran into filming of the first Sex in the City movie near the Ed Sullivan theater. The show was quite memorable was well – it was his interview with Paris Hilton that made a lot of headlines; she did not respond well to him grilling her about her time in prison. I'm terribly sad he's retiring, but the silver lining is that I could not be happier that Stephen Colbert is his replacement. I know he'll do an incredible job.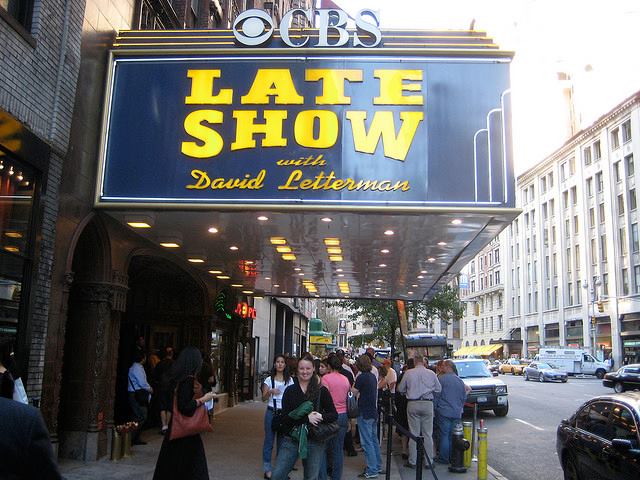 We also went to see Pitch Perfect 2 last week, which was a whole lot of fun.
LISTENING
I've just finished listening to My Journey with Maya by Tavis Smiley, and I want to listen to something light this week since I'll be running around doing BEA related prep and activities. (Missoula is high on my audiobook list, but I think that's too heavy for this week.) I've settled on starting 10% Happier by Dan Harris.
LINKING
I love podcasts, but at this point I subscribe to so many that it's impossible to keep up. That makes me a bit wary to read podcast recommendations, even though I'm still hungry to learn about awesome ones. I appreciated this Brain Pickings list, which recommends specific episodes of great podcasts.
This is so awesome: Michelle Poler has a lot of fears, but has decided to face them in her "100 days without fear" project. She's documenting her journey in short videos. Read more here.
And that's the week! What have you been reading/watching/listening/up to?