It has been a wonderful week. I got to spend time catching up with friends while eating tacos on two separate occasions – it doesn't get much nicer than that. Graham and I also went hiking in the Catskills yesterday with my friend Jon. It was a gorgeous spring day and it felt so good to be out in nature, hiking. We climbed Indian Head in the Catskills, the first leg of the Devil's Path. I've now done the first and last of the 6 summits on the Devil's Path, and am feeling ready to do the entire trail (on a two day overnight, I don't fancy doing it all in one day!).
This is the view near the top of Indian Head. The valley is about to burst into life; the next time we go to the Catskills everything will be green: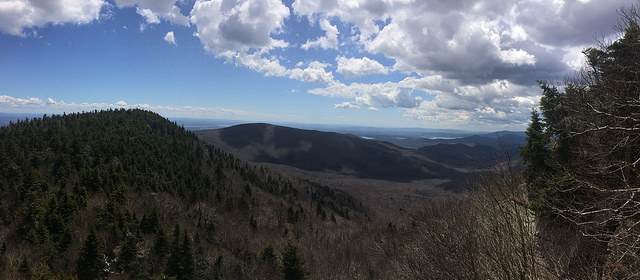 There are already wildflowers blooming along the trail up to the summit. Here are photos of a Trout Lily and some Spring Beauties: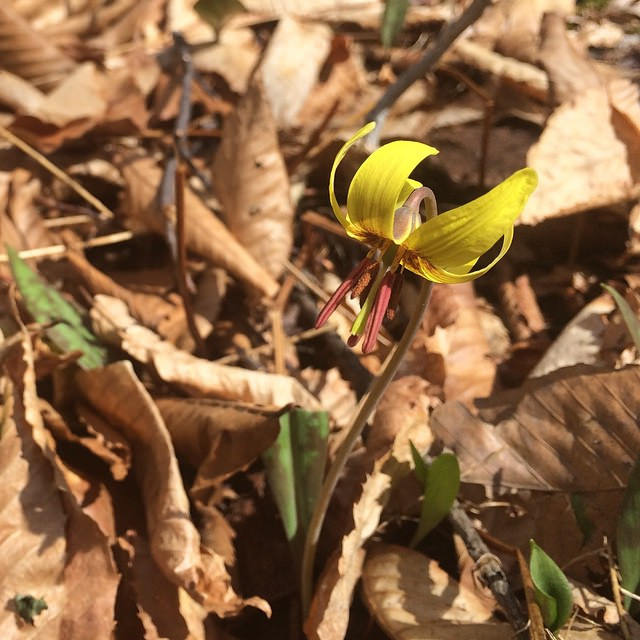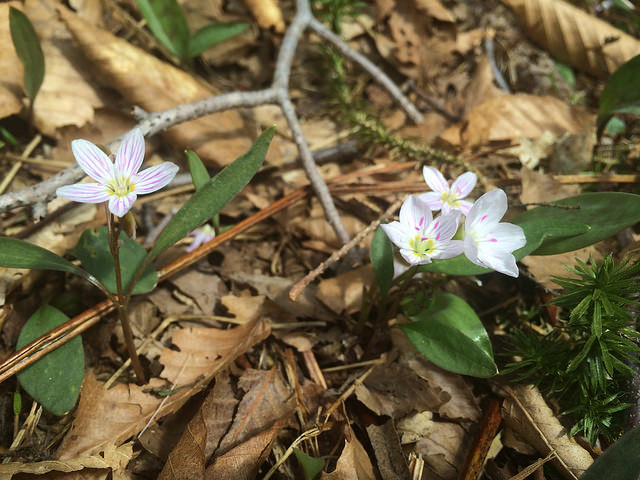 It was also amazing that there was still so much snow on the summit and the shady side of the mountain – it was a very hard, long winter. Here's my friend Jon standing in the snow along the top ridge: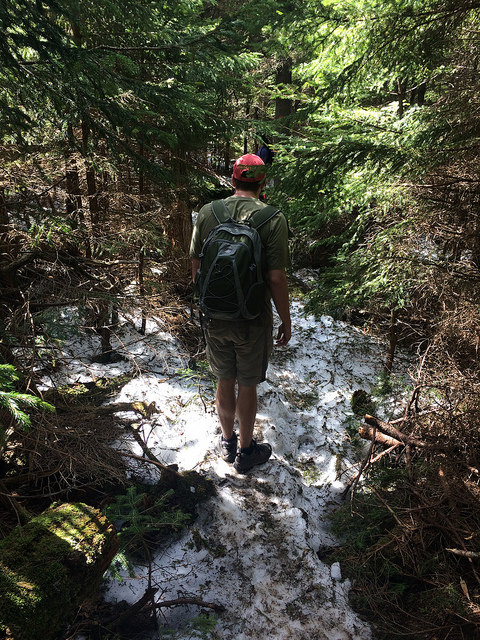 Here's Graham and I near the top: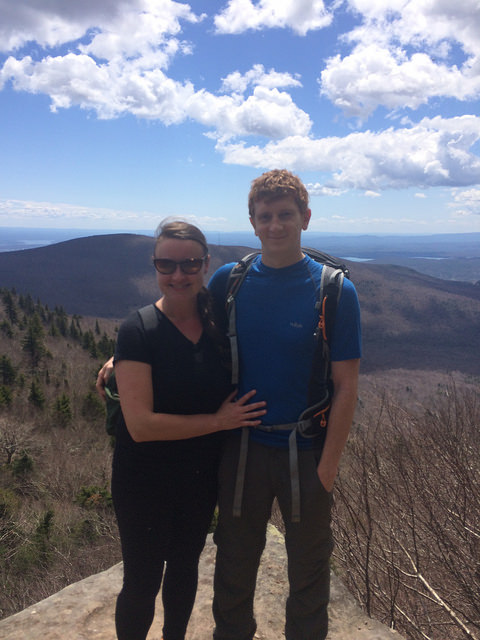 This week, we are driving to Michigan for a few weeks to visit my family and do some camping. I'm very excited to see my family, and to spend some time outdoors in Michigan – it's usually very lovely this time of year. I'm also looking forward to a good amount of reading time – particularly reading time in a hammock.
Me packing books for Michigan: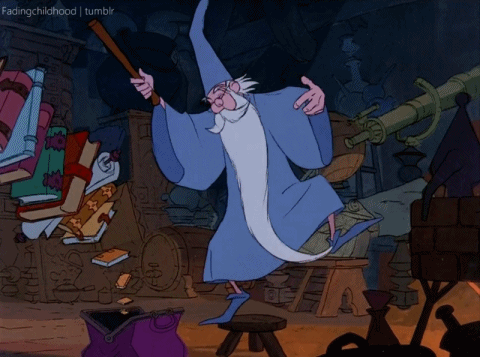 I will still be blogging while away, just perhaps not as frequently as the last few weeks.
//
Last week I posted book reviews of H is for Hawk by Helen Macdonald and So You've Been Publicly Shamed by Jon Ronson. I shared my photos of Condors in the Colca Valley in Peru. To celebrate Independent Bookstore Day on Saturday, I shared 6 Ways to Support Your Independent Bookstore. This week's Words to Live By post featured the wonderful Eleanor Roosevelt.
READING
I finished The Stranger by Albert Camus, which I started during the Readathon last weekend. I enjoyed reading it, but I think I need some time for it to soak in, and I should perhaps read some commentary on it to help me digest it.
I'm now reading The Thing With Feathers: The Surprising Lives of Birds and What They Reveal about Being Human, which I'm enjoying but am not very immersed in yet. I think I've been reading a lot of non-fiction lately and need a few good novels to kick off my summer reading. I think I will likely pick up A God in Ruins when it's released on Tuesday and start that.
WATCHING
We have been watching Last Man on Earth, and are all caught up for tonight's season finale. It's not the type of sitcom that I usually like – I find the main character Phil to be so completely insufferable that I'd normally pass on the show altogether, but the excellent supporting cast (especially Kristen Schaal) has kept me watching. I'm also finding it refreshing to watch an End-of-Civilization scenario that isn't completely grim. Post-Apocalyptic movies, books, and TV have been so overdone in recent years, but it's rare to find one that approaches it in a lighthearted, comedic way. It's fun to watch.
We also finally watched Going Clear, which came out while we were away. All I can say is: Holy Crap.
LISTENING
I'm in desperate need of a good audiobook to start. I have no shortage of titles in my collection, it's just a matter of picking one! While I'm being indecisive I've been listening to podcasts, which is lovely too.
LINKING
Your Internet Habits Create Your Reality (Zen Habits) – a great reminder that we choose what we expose ourselves to online, and we can curate that to fill it with positivity, information, and value, or not.
My very favorite Humans of New York of late was posted while I was traveling, so I didn't get a chance to share it. If you haven't taken a minute to meet this amazing little girl, do so now! And don't miss the second post, where she describes the country of Manizao that she invented – we should all move there immediately.