My March reading recap is a bit delayed due to my travels, but betterlatethannever and all that! I was happy that I managed to finish 7 books in March – I barely read anything in the first two weeks of the month, I was so busy preparing for my trip to South America. I also don't always read very much while I travel, so it was nice to finish 6 books while abroad in March. The two audiobooks helped – I listened to them while I gazed out the windows of buses and trains.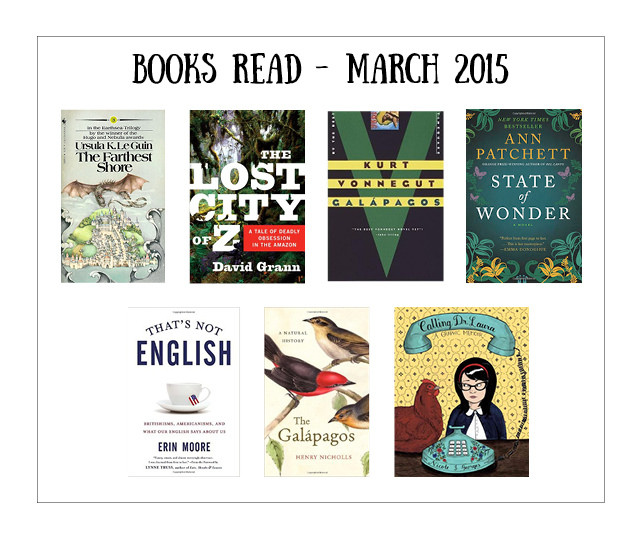 Books Read: 7
Already reviewed:
RE-READ
I re-read Galapagos by Kurt Vonnegut, a novel set in … you guessed it … the Galapagos. I read it years ago, and wanted to re-read it before traveling there myself. It's not my favorite of Vonnegut's novels, but it's still a very fun read.
FICTION
I read State of Wonder while in the Galapagos. The only other book by Ann Patchett that I'd read previously was her memoir Truth & Beauty, so I was excited to finally read one of her novels. I thought it was beautiful – I love her writing style, and the story captivated me completely. My only problem was the ending. I am generally ok with open-endings, but in this case I was particularly concerned about one of the characters, and a bit devastated not to know his fate.
NON-FICTION
I read Calling Dr. Laura, a graphic memoir by Nicole J. Georges. It's a coming of age story mixed with a bit of mystery – Nicole finds out as a young adult that her father did not, as her mother told her throughout her entire life, die when she was an infant. I enjoyed her artistic style and her story of discovery and acceptance of her past and her relationship with her mother.
I listened to two audiobooks in March as background / preparation for my trip, the first was The Lost City of Z by David Grann. In the past few years I've been a bit obsessed with reading Arctic expedition stories, and boy was this a change. The Amazon is a completely different beast. It takes a totally different breed of explorer to survive there. I loved the background this book provided on the incredible history of the Amazon, and the insight into its harshness. It made me appreciate my own (infinitely more tame) visit to the jungle.
Just as The Lost City of Z provided excellent background to my trip to the Amazon, the other audiobook I read provided helpful background to my trip to the Galapagos: The Galapagos: A Natural History by Henry Nicholls. It's a pretty high level account: it hits the highlights of the major species of plants and animals in the archipelago and a brief human history.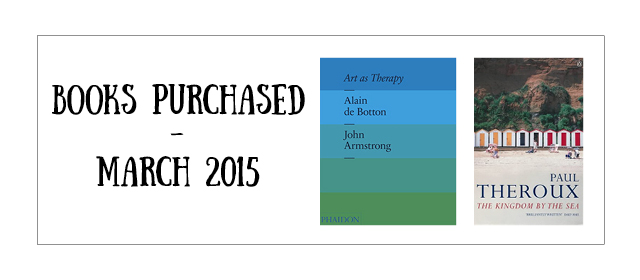 I've had my eye on Art as Therapy by Alain de Botton ever since seeing the Art Is Therapy exhibition at the Rijksmuseum last year, and I found a used copy in great condition at Strand before I left for South America. I'm really looking forward to pouring over this beautiful book!  If you want to read more about this one, it's featured on Brain Pickings.
While I was in Quito, I went into a lovely little bookshop called The English Bookshop. I browsed the travel section for a little while, and left with a copy of Paul Theroux's The Kingdom by the Sea: A Journey Around the Coast of Great Britain.
//
That's March, folks! I'm very happy to be home and able to read from my entire library again. :)