It is so very lovely to be home! We got back late Tuesday night. We spent the rest of the week relaxing, catching up on life, and eating all the food we missed while we were away. We returned to a beautiful spring in NYC and the streets are sunny and full of flower blossoms. It's charming.
READING
I'm nearly done with 13 Ways of Looking at the Death Penalty by Mario Marazziti, and I'll post a full review of it soon. I have no idea what I'll read next – I have a giant stack of books that I want to read immediately. There's no way of knowing yet which one will win.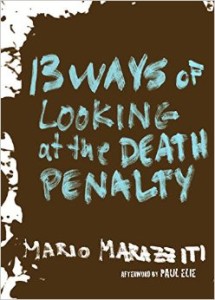 WATCHING
We're catching up on The Daily Show, Last Week Night, and the Tonight Show from while we were away. I've also finished watching this season of The Mindy Project – oh how I hope it gets renewed!
I also made a decision about Game of Thrones – Graham watches it and he got me into it last fall, but I've only watched season 1 so far. I decided there was no way I could watch 3 seasons before the premiere of season 5 (and I didn't really want to – I like the show, but not enough to marathon it that intensely.) So I decided to just start watching season 5 with Graham, so we can watch it together each week. He caught me up as best as he could, and I was able to follow along pretty well during the premiere. I'll probably go back and watch the other seasons at some point, but for now I'm content picking up in season 5. I realize hardcore GoT fans will find this highly suspect and unorthodox, but it's working for me so far.
LISTENING
I've just finished the audiobook of Rainbow Valley by Lucy Maud Montgomery. Oh how I love Barbara Caruso's narration of the Anne of Green Gables series – it's pure delight. I'm now listening to So You've Been Publicly Shamed by Jon Ronson, narrated wonderfully by the author. I'm also trying to catch up on hundreds of podcasts I missed while I was gone.
LINKING
So that's the week! I'm so happy to be back. How are you? How was your week?