Back in the day I used to be very dedicated about posting my monthly reading recaps, which I call my "Polysyllabic Spree" in honor of Nick Hornby, who is the reigning champion of monthly reading recaps via his column in The Believer. I posted them religiously for years, but my last one was almost two years ago. Right about the time I took an unofficial blogging hiatus. I've decided that it's time to bring back my monthly recaps, and share the books coming into my library and books that I've read.
I read a lot in January. I also went on a graphic novel bender, which helped the stats. Here's what I read and purchased in January: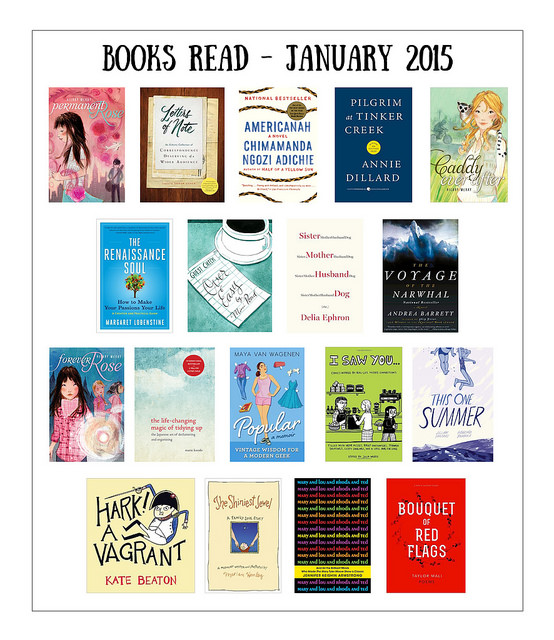 Books Read: 18
BOOKS I'VE ALREADY REVIEWED:
FICTION
The Voyage of the Narwhal
 by Andrea Barrett. I bought this book and started it with the intention that I'd finish it in time to join my mom's book group for their discussion of it while I was home. I didn't end up getting anywhere near the end of it before the discussion, but I enjoyed reading it and talking about it with my mom. I love real life accounts of arctic exploration, and was curious about what a completely fictional arctic adventure would be like to read. The Voyage of the Narwhal tells the story of a fictional quest to find survivors or remains from the (non-fictional) lost Franklin expedition. The three major topics in the novel are all extremely interesting subjects: what it's like to be part of an arctic exploration, what life is like for the women left at home, and how arctic explorers interactive with the native Esquimaux. It's a great novel, especially if you're interested in the arctic. Now I'd also like to read Ship Fever, Andrea Barrett's collection of short stories.
NON-FICTION
The Renaissance Soul
by Margaret Lobenstine. I've been working on figuring out my next step career wise post year of travel. This book caught my eye in a Barnes and Noble, and I decided to give it a try. A Renaissance Soul is described as someone with a wide (and changing) variety of passions and interests, who likes learning new things and working on new challenges and wants a career built out of following those passions wherever they lead, even if it doesn't necessarily follow a typical career path. This personality type is the opposite of people who've always known from a young age exactly what they want to do for a living for the rest of their life. This book provides some interesting thoughts on how to think about your life and career if you identify as a Renaissance Soul, and I'm glad that I read it.
Popular: Vintage Wisdom for a Modern Geek
by Maya Van Wagenen. This book is so sweet. The concept is that Maya, struggling socially at school, finds a guide to popularity from the 1950s. She decides to follow the advice in the book as an experiment to see if it's still relevant and helpful. She documents her year and what she learns in this lovely memoir. Even as an adult, it reminded me of the importance of simply going up to people and talking to them in situations where you are struggling to connect with others – being open and friendly to everyone, and showing kindness when others need it. It's a charming read, and it can also help restore your faith in the upcoming generation a bit if your main impression of them lately is based on seemingly unlimited duckface selfies. But I think why this book is incredibly important is for its message to teenagers now – I hope they are finding this book and reading it. If you're a parent or relative of a teen, this book would make a great gift that could help them face school with a lot more perspective and grace.
AUDIOBOOKS
Pilgrim at Tinker Creek is a very poetic book. Annie Dillard is an amateur naturalist. Her wonder and delight with the natural world around her hum through every paragraph. The poetic feel of her prose was beautiful to listen to via audiobook, but also made it a bit difficult to follow. Sometimes the subject changed so quickly that I missed what kind of plant or animal she was describing the habits of – which made listening to it a bit like a game. I enjoyed it the book a lot, but I think to really get everything out of it I'd need to go back and read a print copy.
I tend to crave audiobooks that make you feel like a friend is sitting next to you, chatting away about things that interest you. Sister, Husband, Mother, Dog, Etc by Delia Ephron fits into that category. Meg Ryan narrates it, which adds to the amiable feel. It's a nice collection of short essays. I didn't love the small section where she's complaining about technology, but her reflections about her sister and their relationship were interesting and full of truth about the complexity of relationships. She also writes about some feminist topics, and I especially like her view on women's ability to "have it all." She says that the recent debate over whether or not women can "have it all" is flawed because it assumes that every woman wants the same things, something I strongly agree with.
Mary and Lou and Rhoda and Ted: And all the Brilliant Minds Who Made The Mary Tyler Moore Show a Classic by Jennifer Keishin Armstrong. This is the kind of in-depth history of a television show that's probably most interesting to fans of the show. And I am a SuperFan. I grew up a generation too late to watch the show during its run, but discovered it at a very young age on Nick at Night. The first thing I bought for my first apartment was a gold letter E to display in homage to Mary Richards. Fans of the show will enjoy the behind the scenes information about how the show was created and what life was like for the cast and crew during its seven year run. It's extremely crazy how close the show came to not making it at all, to being a half season show that we've never heard of today. It was stuck in a horrible time slot by a network executive that didn't believe in it. Only a very well timed departure of that executive and new leadership that believed that unique, modern shows like The Mary Tyler Moore Show would be the future of television saved the show from certain failure. I also learned a lot about how much The Mary Tyler Moore Show did for feminism – not just in providing a role model for multiple generations of young women, but also providing an incredibly fair and supportive environment for women to work in television writing.
GRAPHIC NOVELS
My Mom's library has a fantastic collection of graphic novels, so while I was home for a few weeks in January I took advantage of this and checked out a lot of graphic novels that I have been wanting to read. I'll talk about them in the order I'd rank them, mainly because it was easy to decide. My favorite was easily Hark! A Vagrant
by Kate Beaton. I wish there were more graphic novelists interested in writing and drawing books about history, it's becoming a little more popular but can still be hard to find. Hark! A Vagrant is fantastic because it combines history and literature with so much humor and wit. I loved it, and am so excited to see that she has a follow up coming out later this year.
My next favorite graphic novel of the month was I Saw You…: Comics Inspired by Real-Life Missed Connections
edited by Julia Wertz (one of my favorite graphic novelists). In this collection, dozens of graphic novelists create comics that add imagined backstory to real life missed connections posted on Craigslist and in newspapers. It's a lot of fun, and the collection format was great – it added a lot of variety to the interpretations and made the concept more enjoyable.
The Shiniest Jewel: A Family Love Story
 by Marian Henley is a story about a 49 year old woman's decision to adopt a child from Russia, at a time in her life when she is also dealing with the end of life illness of her father. It's a short book – just a snapshot into her life during a time filled with a lot of change and uncertainty and love, and it's a good read.
Over Easy
by Mimi Pond is a coming of age graphic memoir set in 1970s California. I heard great things about it when it came out, but while I enjoyed it, I'm glad I read a library copy. Graphic Novels can accumulate quickly on your shelves, and I think it's better to read them first and discover who your favorite authors / artists are before buying them. This one wasn't one of my favorites.
This One Summer
by Jillian Tamaki & Mariko Tamaki. This is a gorgeous graphic novel. The art is beautiful and I enjoyed the feeling of summer it captures perfectly. The story is about two friends, navigating a summer of change – growing up, romantic interest, and parental marriage trouble. I liked it ok, but was left with a sense of something missing from it that kept it from greatness. I still haven't figured out what.
RE-READS
I've been re-reading the entire Casson Family series by Hilary McKay. In January I re-read the last 3 books in the 6 book series: Permanent Rose
, Caddy Ever After
, and Forever Rose
. I need to write a full post about the amount of love I have for this series. For now what I will say is that if you also love the magic of reading the very best children's literature as an adult, you cannot miss this series. It's the kid's lit equivalent of stepping into a big fictional family that you never knew was missing from your life until you met them.
//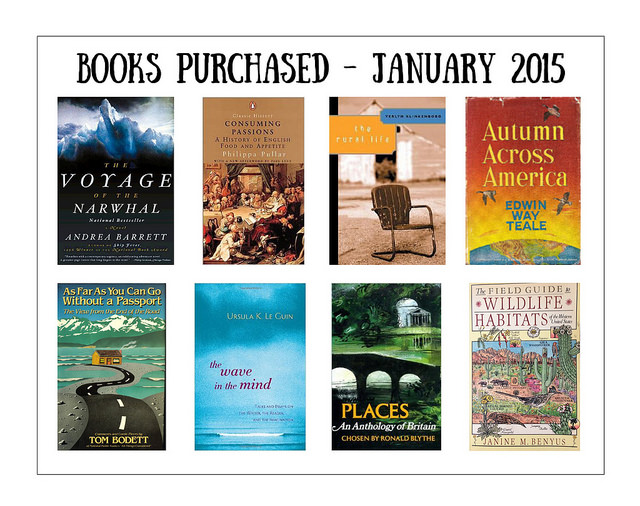 Books Purchased: 8
The Voyage of the Narwhal by Andrea Barrett (IndieBound| Amazon
)
Consuming Passions: Being an Historic Inquiry into Certain English Appetites by Philippa Pullar (Amazon
)
The Rural Life by Verlyn Klinkenborg (IndieBound | Amazon
)
Autumn Across America by Edwin Way Teale (Amazon
)
As Far As You Can Go Without A Passport by Tom Bodett (IndieBound | Amazon
)
The Wave in the Mind by Ursula K. Le Guin (IndieBound | Amazon
)
Places: An Anthology of Britain by Ronald Blythe (Amazon
)
A Field Guide to the Wildlife Habitats of the Western United States by Janine M. Benyus (IndieBound | Amazon
)
Most (five) of these were purchased at the Friends of the Kalamazoo Public Library bookstore for 1 to 2 dollars each. I bought The Wave in the Mind right after starting to read a library copy of it and discovering immediately that I needed to own it – it was so fantastic that I couldn't be parted with it at the end, and I also needed to mark many passages while reading. My first book purchased this year – The Voyage of the Narwhal, was bought at Strand, with some of the store credit I got from selling my purged books. Consuming Passions is an example of how reading one book can add others to your reading list – I decided I need this after reading about it in the wonderful Home Cooking by Laurie Colwin.
So there's my month in books! I'm glad I read so much, but it did really make compiling my first Polysyllabic Spree in 2 years quite time consuming! :) How was your January – what were your favorite books read or acquired?