Happy Christmas, friends! I hope your holiday is filled with love and happy moments. And books.
G and I are having a cozy little Christmas in Brooklyn. We got each other a few small things to unwrap, and filled our stockings with a few treats, but it's been a very non-commerical Christmas. It's been so lovely not spending a month worrying about buying perfect Christmas gifts, and instead focusing on enjoying this wonderful time of year with people who are dear to me.
Even though we're not fussed about buying presents, we're not skimping on the food. We're combining American and English Christmas traditions into a bit of a delicious hodge-podge of a two day feast. I'm celebrating Boxing Day for the first time, and also making my first Trifle! Wish me luck – it was off to a rocky start yesterday when the oven door fell off while baking the sponge cake. But G fixed it, and it's back on track – I'll assemble the Trifle tomorrow for Boxing Day. Thankfully there's a British grocery shop in the city, Myers of Keswick, where we could get all the imported English supplies we needed. I'm a bit scared to try the mince pies, but am maintaining an open mind!
We spent Christmas Eve watching Christmas movies and baking & decorating Christmas cookies: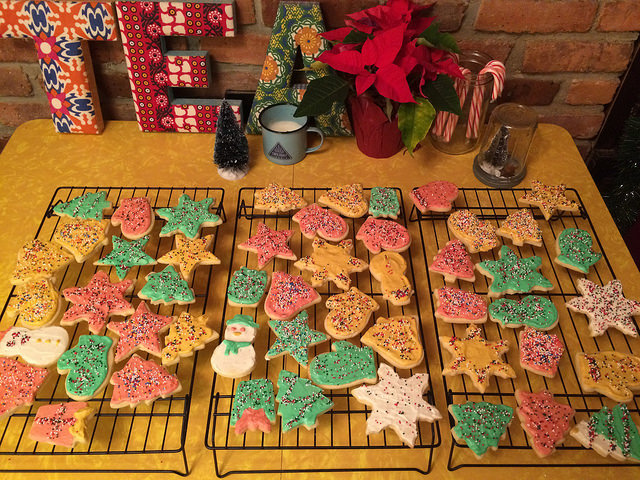 Before I head off to start cooking Christmas dinner, I want to thank you for spending a few moments of your 2014 here with me at Books, the Universe, and Everything. Cheers to a happy and peaceful new year!
//
He puzzled and puzzed till his puzzler was sore. Then the Grinch thought of something he hadn't before. Maybe Christmas, he thought… doesn't come from a store. Maybe Christmas, perhaps… means a little bit more!
-Dr. Seuss, How the Grinch Stole Christmas