After packing up and driving out of Arches National Park, we stopped in Moab, Utah for a bite to eat at the Moab Diner and a quick browse through Back of Beyond Books. It's a gem of a little bookshop. It has new and used books of all types, but especially focuses on nature, wildlife, adventure stories, exploration, and the American West. Browsing their curated selection is a lovely experience because they are categorized and displayed so well. It's the kind of store where you end up discovering lots of wonderful books and authors you've never heard of before. I found several such books, and before heading to the register I paused at the Edward Abbey endcap, which caught my eye when I came in.
Edward Abbey is an outdoorsman, and a philosopher. I had heard of his novels before (most famous is probably The Monkey Wrench Gang) but wasn't aware of his prominence as a literary figure in the American West, or of his non-fiction collections, until I began seeing more of his books featured in the shops out there. I picked up The Journey Home: Some Words in Defense of the American West and as I flipped through it I saw so many of the places I'd already been on my road trip (Yosemite, Glacier National Park, Death Valley, Utah, Las Vegas) and so many of the places I was about to travel to (Telluride, New Mexico, Texas). I decided it would make for a great companion for the rest of the trip, and added it to my small stack of books to purchase. I was correct.
This collection was published in 1977, and many of the pieces were published elsewhere first, describing adventures he'd had years or decades before. So, a lot has changed – you're not only reading an appreciation of the west, you're also reading some of its history. He tells stories of Yosemite Valley, already crowded, where rangers had to police hitchhiking or partying hippies. He writes of a Telluride that was not yet a tourist destination. He writes passionately of the environmental threats of the time. It was so enjoyable to travel along with him seeing the west through his eyes, while traveling along myself and seeing its wonder with my own. A lot has changed, but the immense appeal of this land has not.
I loved so many of the pieces in this book, but my very favorites were his journal of living & working as a fire scout at Glacier National Park ("Fire Lookout: Numa Ridge") and his account of following Major John Wesley Powell's adventure boating down the Colorado River, starting from the head of the Green River in Wyoming down 1,000 miles to Lake Mead ("Down the River with Major Powell").
I'll end by sharing one of the passages from this collection that I think does the best job describing the appeal of this incredible region that I love so much, and I'll also share a few photos I took during my time out west this summer.
The canyon country does not always inspire love. To many it appears barren, hostile, repellent — a fearsome land of rock and heat, sand dunes and quicksand, cactus, thorn-bush, scorpion, rattlesnake, and agoraphobic distances. To those who see our land in that manner, the best reply is, yes, you are right, it is a dangerous and terrible place. Enter at your own risk. Carry water, Avoid the noonday sun. Try to ignore the vultures. Pray frequently.
For a few others the canyon country is worth only what they can dig out of it and haul away — to the mills, to the power plants, to the bank.
For more and more of those who now live here, however, the great plateau and its canyon wilderness is a treasure best enjoyed through the body and spirit, in situ, as the archeologists say, not through commercial plunder. It is a regional, national and international treasure too valuable to be sacrificed for temporary gain, too rare to be withheld from our children. For us the wilderness and human emptiness of this land is not a source of fear but the greatest of its attractions. We would guard and defend and save it as a place for all who wish to rediscover the nearly lost pleasures of adventure, adventure not only in the physical sense, but also mental, spiritual, moral, aesthetic and intellectual adventure. A place for the free. 
Here you may yet find the elemental freedom to breathe deep of unpoisoned air, to experiment with solitude and stillness, to gaze through a hundred miles of untrammeled atmosphere, across redrock canyons, beyond the blue mesas, toward the snow-covered peaks of the most distant mountains — to make the discovery of the self in its proud sufficiency which is not isolation but an irreplaceable part of the mystery of the whole. 
Come on in. The earth, like the sun, like the air, belongs to everyone — and to no one. 
– Edward Abbey, The Journey Home, pages 87-88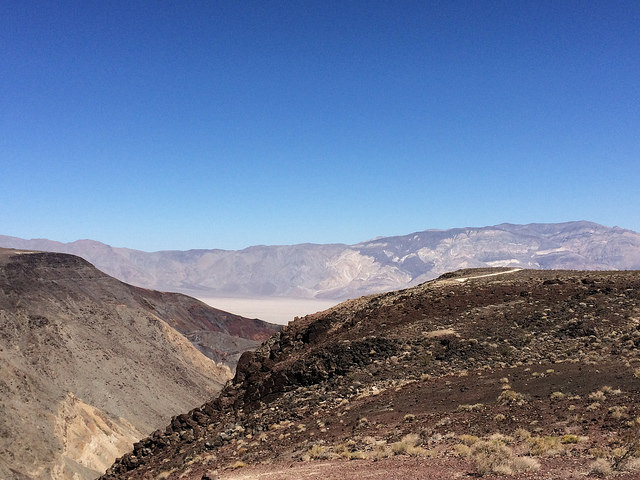 Death Valley, California, August 2014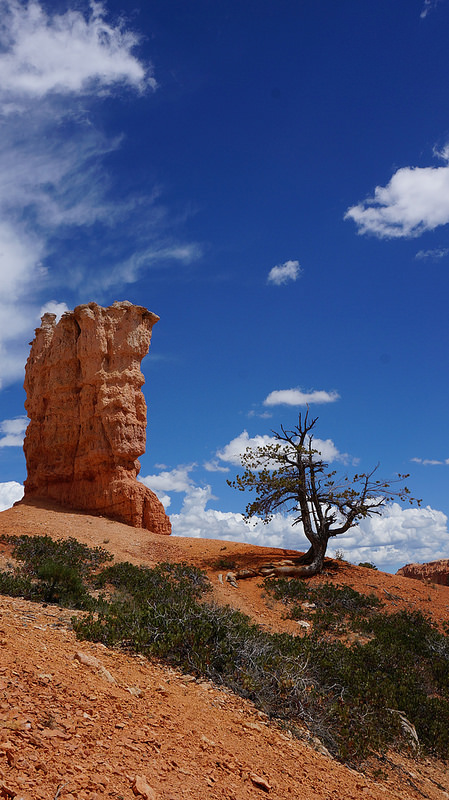 Bryce Canyon, Utah, September 2014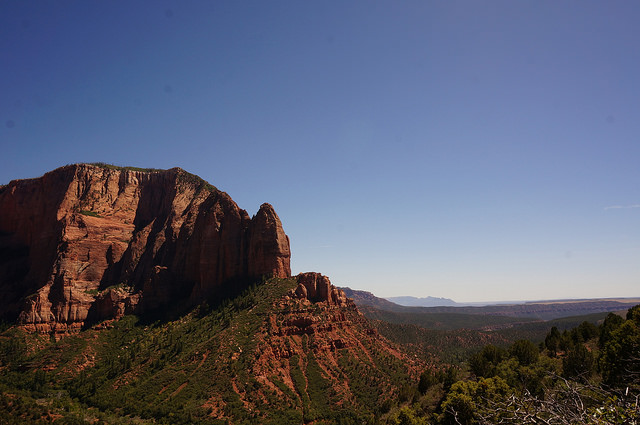 Zion National Park, Utah, September 2014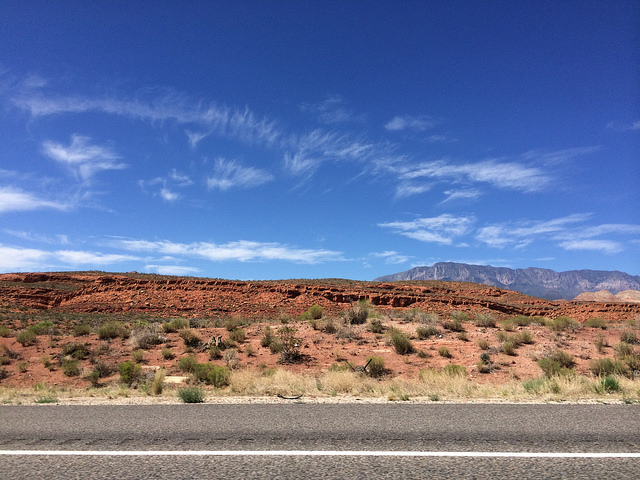 Near St. George, Utah, September 2014
"The longest journey begins with a single step, not with a turn of the ignition key. That's the best thing about walking, the journey itself. It doesn't much matter whether you get where you're going or not. You'll get there anyway. Every good hike brings you eventually back home. Right where you started." (page 205)