Last year I posted my favorite Apple Pie recipe on Thanksgiving, as well as a list of some of the small things in life that I'm thankful for. Looking back at that post, after a year mostly spent away from home and on the road, I am thankful that the amazing adventures I went on this year made me appreciate the small things in life (and on that list) even more. I'm also so grateful for the great big things in my life too, especially all of the people I love and the incredible places I've gotten to see and experience this year.
Since I've already shared my favorite Apple Pie recipe, I'll share a new recipe that I tried out for this Thanksgiving, Brown Butter Oatmeal Chocolate Chip cookies. During a holiday that begs for pie, pie and more pie, making cookies might seem strange. But in our family we have lots of delicious pie, and lots of other treats too. My aunt's house is full of family and kids and laughter for days, and there's always a treat table full of things baked with love. These cookies are big and warm and full of cinnamon and oats and are well suited for a long weekend of relaxing with family.
If you celebrate Thanksgiving, I wish you a most wonderful holiday, and hope that you get to spend some fun times and some cozy times with people that you care about. As we celebrate the many things we're thankful for, I hope we also get the chance to give something back to people who aren't as fortunate as we are and who don't have as much, or sometimes even enough.
//
Brown Butter Oatmeal Chocolate Chip Cookies 
INGREDIENTS
1/2 cup unsalted butter
1/2 cup granulated sugar
1/2 cup packed brown sugar
1 large egg
2 tsp vanilla extract
1 tbsp milk
1 1/4 cup all-purpose flour
3/4 cups rolled oats
1/4 tsp kosher salt
1/2 tsp baking powder
1 1/2 tsp cinnamon
1 cup semi-sweet chocolate chips
INSTRUCTIONS
Melt the butter in a small sauce pan over medium heat until just browned. If you've never made brown butter before, follow this extremely helpful how to guide. Transfer into a large bowl and let cool.
In a medium bowl, whisk together the dry ingredients: flour, salt, baking powder, rolled oats and cinnamon.
Once the butter has cooled (about 10-15 minutes), whisk in sugars. Then add the egg, milk, and vanilla, and whisk until smooth. Slowly stir in the dry ingredients to form the dough. Just before the dough fully comes together, fold in chocolate chips. Do not overmix, but ensure you've incorporated the dry ingredients fully. Cover and refrigerate for at least 30 minutes.
Preheat oven to 375 degrees. Line baking sheets with parchment paper. Form dough into 2 1/2 inch balls and arrange about 2 inches apart. Pat down the center of the cookie a little bit – these do not spread much. I like to place a few extra chocolate chips on top of each, and sprinkle the tops with a little bit of kosher salt.
Bake for 14 to 16 minutes, or until edges are golden brown.
Transfer to a wire rack to cool. These are delicious warm out of the oven, and can be stored a few days in an airtight container at room temperature.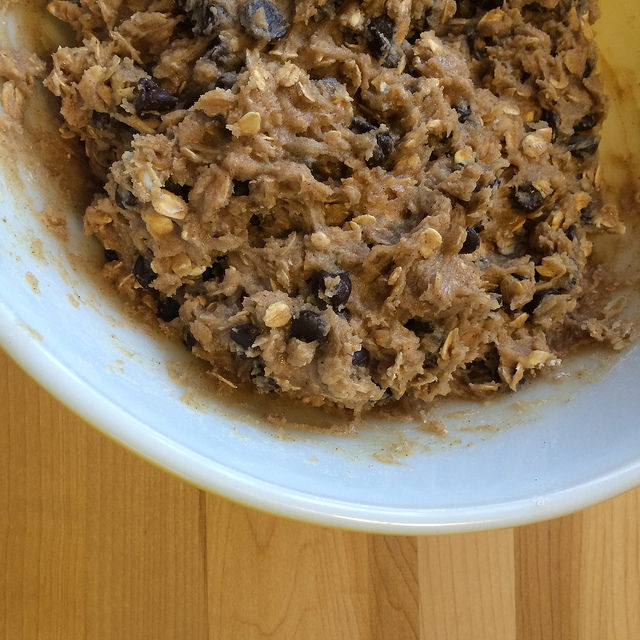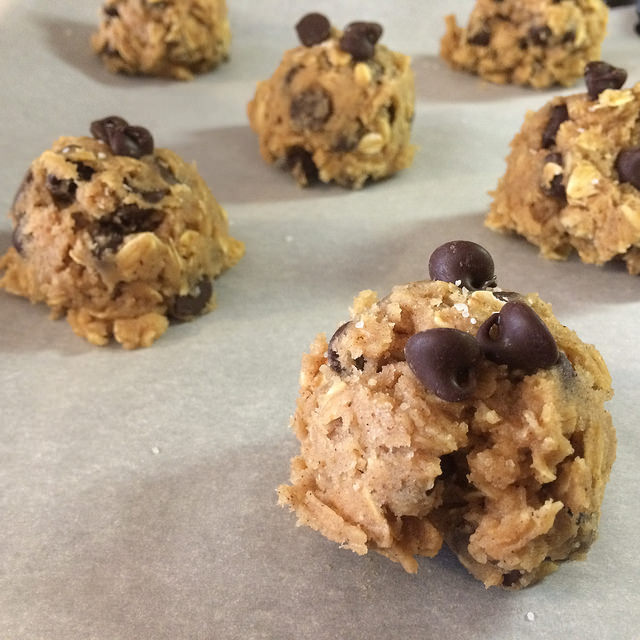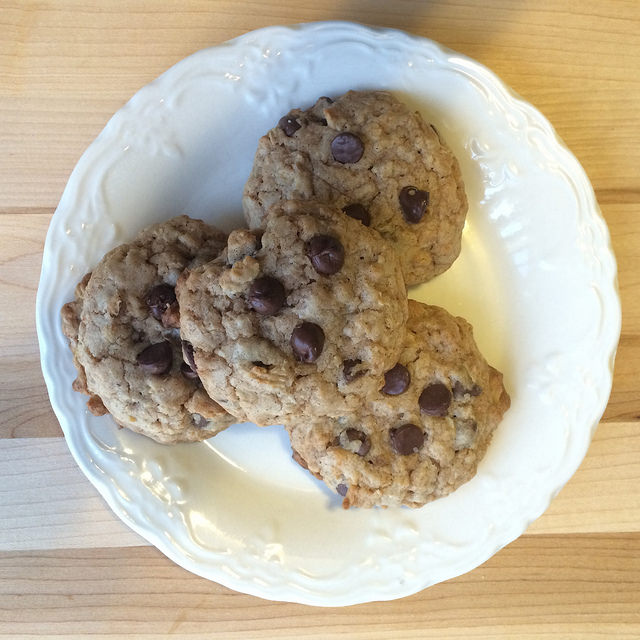 I made a double batch, and came out with 30 good sized cookies (after eating some of the dough).
This recipe is adapted from Warm Vanilla Sugar.