In the past few months, one of the main things on my mind has been: HOW IN THE HECK DO I PACK FOR FOUR MONTHS ABROAD? 16 countries, 3 continents,  all 4 seasons, city explorations, hiking and adventures, arctic boat expedition, 8 day bike tour, 1 backpack.
Since I spent so much time researching and planning what to pack, I figured I'd share a detailed breakdown of what made the cut. Let's start with the tech I'm bringing.
I didn't want to bring both an iPad and a laptop, and since I want to write & blog a lot from the road, I went with a laptop. My Macbook Pro was way too heavy, so I got an 11 inch Macbook Air in December, specifically for the trip.
Let me tell you how much I love the Macbook Air:
SO MUCH.
I've been using it almost exclusively in the few months since I got it, and it's amazing. So small and lightweight. I can throw it in a small bag and take it all around NYC without feeling like I'm lugging something around.
I was on the fence about getting a GoPro and bringing it in addition to my Sony Nex-6 (which I love), but I think it will be great for snorkeling the Great Barrier Reef, the bike tour in France, and the Arctic expedition. (I really want great Polar Bear footage & photos.) Plus it's so tiny that it's easy to justify.
Two iPhones. This might seem weird to other people, but it makes sense in my brain. One is my current phone, which has an AT&T internal plan on it. I hope to not use it very much for calling or data, but it's there when I need it. And I can get texts and phone calls to my regular cell number. The iPhone 5 is unlocked, and I'm planning on getting SIM cards in most of the countries I go to, which will make the data / phone calls much cheaper. I can take photos on either, and upload using the data plan, or when connected to Wifi. I'll let you know how this arrangement went once I'm back.
The last thing I want to call out is my Satechi battery pack. I bring this with me everywhere, and I never have to worry about my iPhone dying. It holds enough power to recharge an iPhone five times, and can charge two phones at once. It can also charge an iPad, tablet, or most anything with a USB connection. It's amazing and I highly recommend just having one for regular life. (The same with my headlamp – I bought it for camping two years ago, and I was surprised how much I use it in everyday life. It's especially great for reading at night in bed.)
So here's the final list: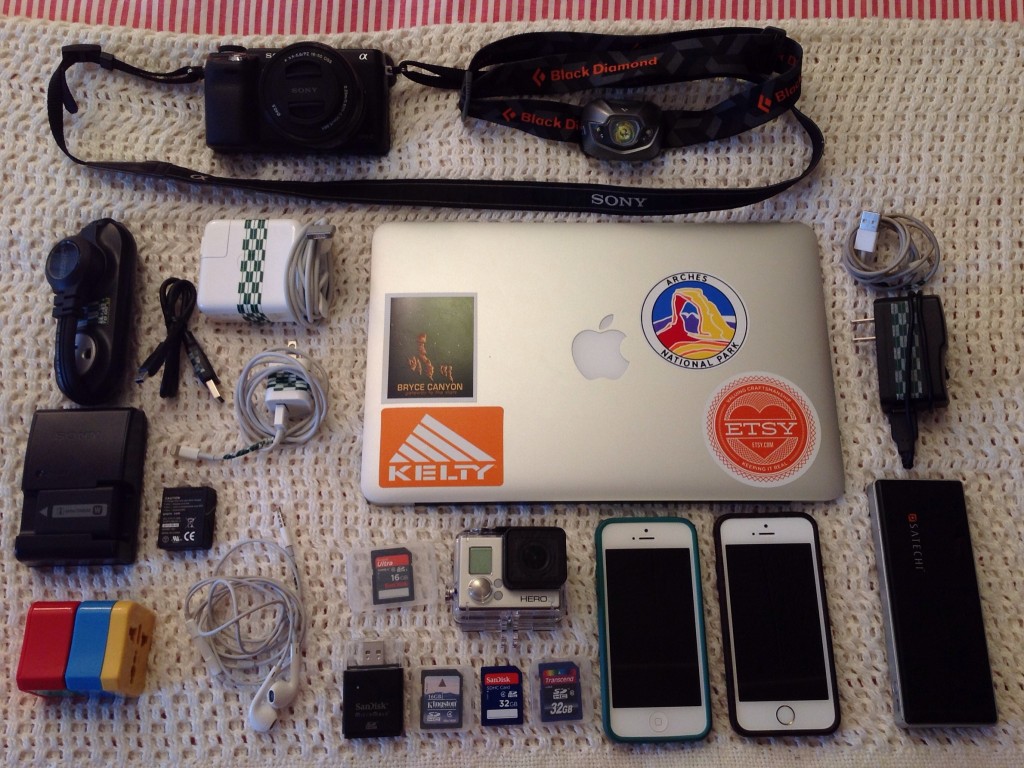 *Items marked with an asterisk are things I bought specifically for this trip and did not own before.
Cameras / Accessories:
Sony Nex-6
Nex 6 battery (2)
Nex 6 battery wall charger
*Scandisk USB SD card reader
16 GB SD card (2)
32 GB SD card (2)
*GoPro Hero3
*GoPro battery (2)
*GoPro USB cord
*32 GB microSD card (2) – not pictured
iPhones / Accessories:
iPhone 5S (with AT&T international plan)
iPhone 5 (unlocked)
iPhone 5 lightning cord (2) & wall charger
Satechi 10000 MaH Portable Energy Station Extended Battery Charger Pack
Satechi Charger Pack wall charger
Apple Ear Buds
Computer / Accessories:
*Apple 11 inch Macbook Air
*Macbook Air wall charger
Misc:
Black Diamond Spot Headlamp
*Monster Outlets To Go Power Strip
Flight 001 4-in-1 Adapters