Here's the thing: Hawaii is ridiculous. It's so unimaginably beautiful. It's something you can't fathom until you see it for yourself. Everyone I met that lives there is happy and relaxed. I've never been one for tropical vacations – I dislike very warm temperatures and I get bored laying on a beach after about 30 minutes. But Hawaii is so different. There's so much to do, and beauty of epic proportions surrounds you in every direction. I fell head over heels for it.
Before I begin, here's the background/context on why I was there in the first place:
My dear friends Kristen and Brian decided to throw a huge party there (their wedding) and invite all their dearest friends and family. So many of my closest friends all traveled out there – about 14 in total, not counting Kristen's amazing family, who are like family to me. Most of us went out for at least 10 days and we all split up and went to different islands for the first half, coming together midway through on Oahu for the wedding festivities. My friend Britt and I went to Kauai and drove around in a Jeep and had incredible adventures.
I hardly know where to begin trying to describe the trip, but I decided to break it down into a series of posts, and to start by highlighting where we stayed in Kauai during the first part of the trip because we loved it so much.
We decided to stay at Waimea Plantation Cottages because we liked the idea of having an entire cottage to ourselves (including a kitchen), and liked the location – Kauai's southwest coast, which has less rain and feels a lot more remote and less touristy. The cottages were once part of a sugar plantation, and are very well placed inside a coconut grove right on the beach. The way they are arranged provides a lot of serenity and privacy – huge tropical plants block you from the cottage next door.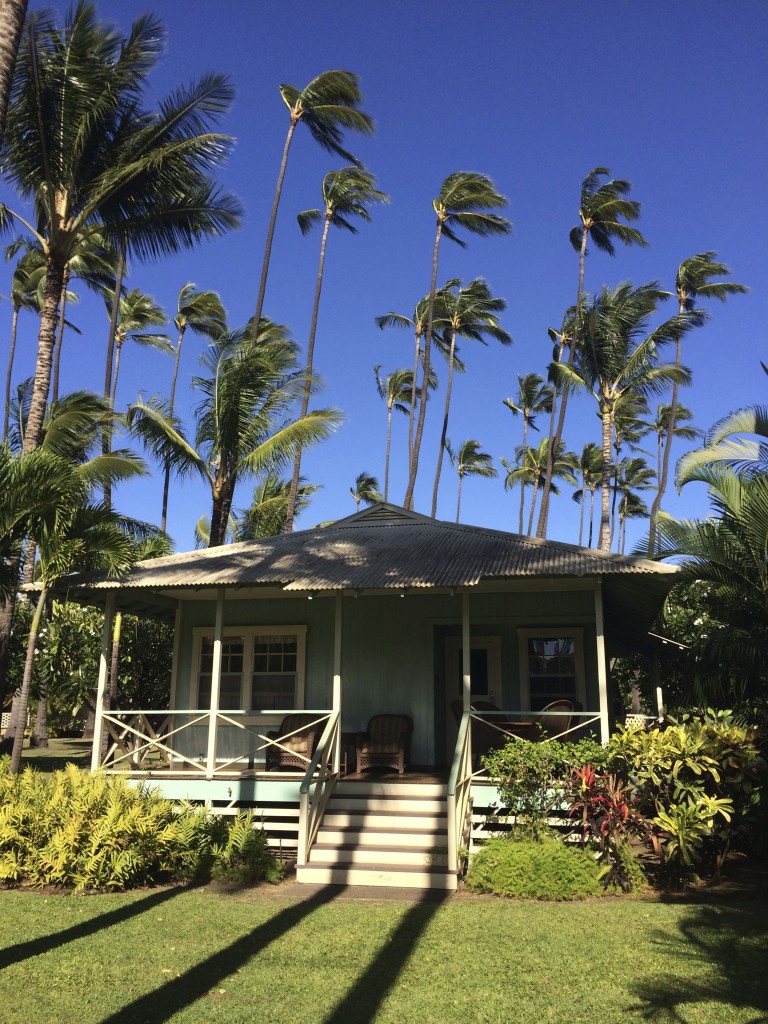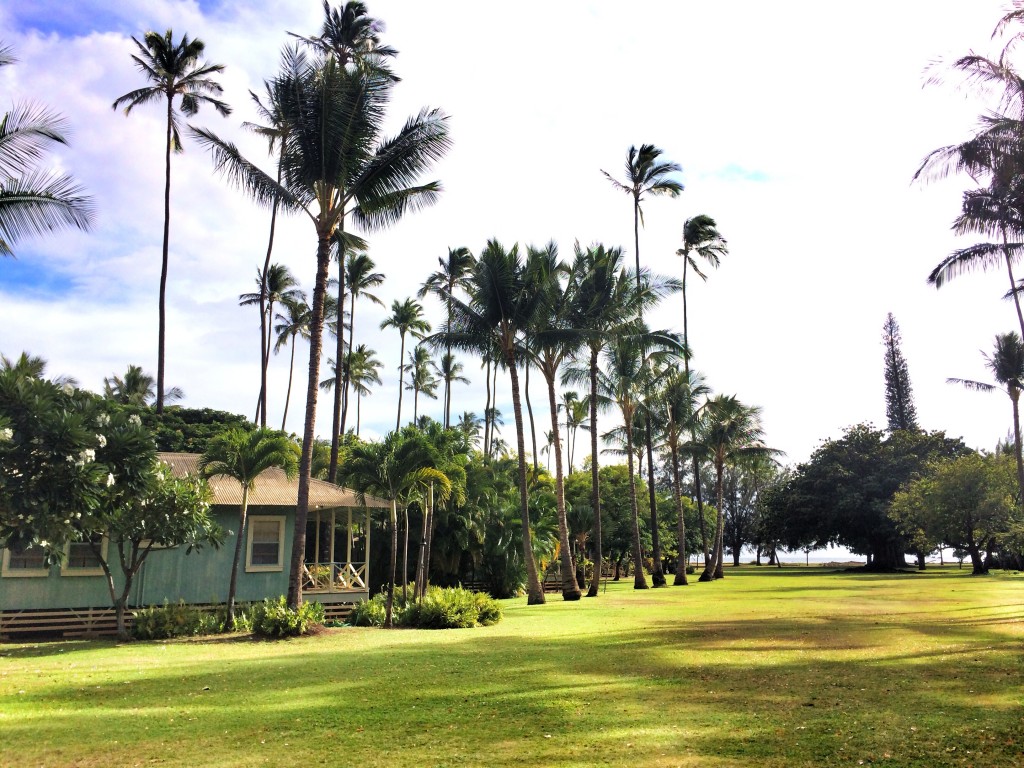 The cottages themselves were simple and rustic, and felt calm and relaxing. Britt and I had a 3 bedroom, 2 bathroom cottage, so we each got our own room and bathroom – a nice luxury. Here's my room in the morning, with the cool breeze blowing in through the curtains: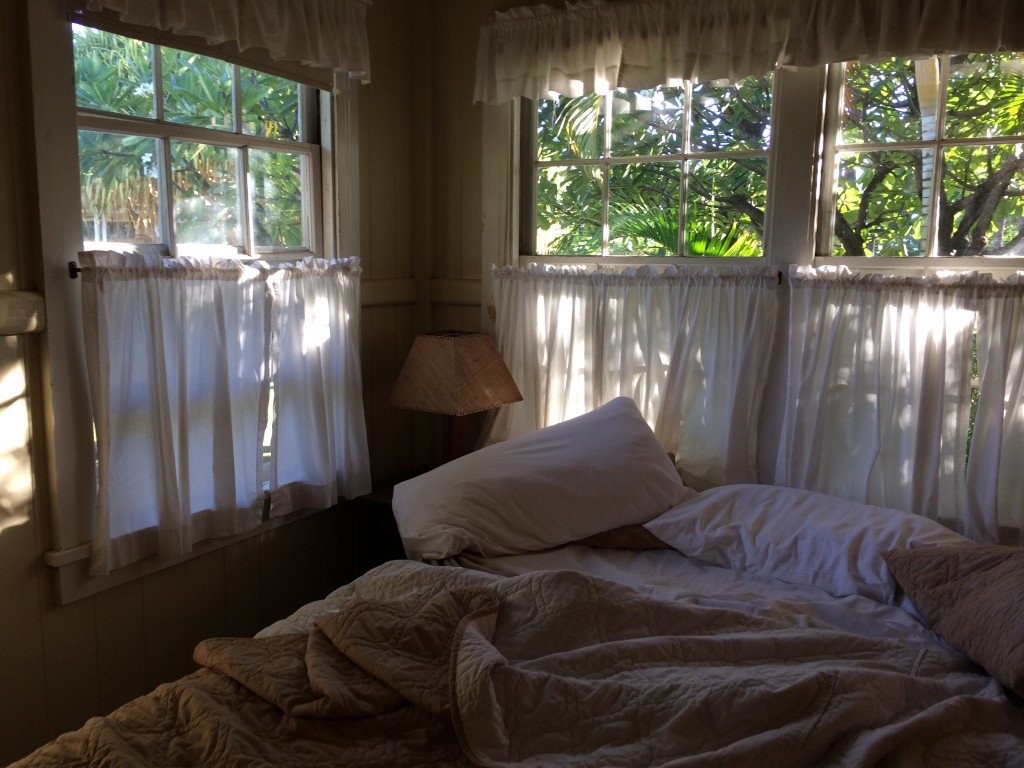 Here's our back porch, where we sat every evening reading and drinking wine: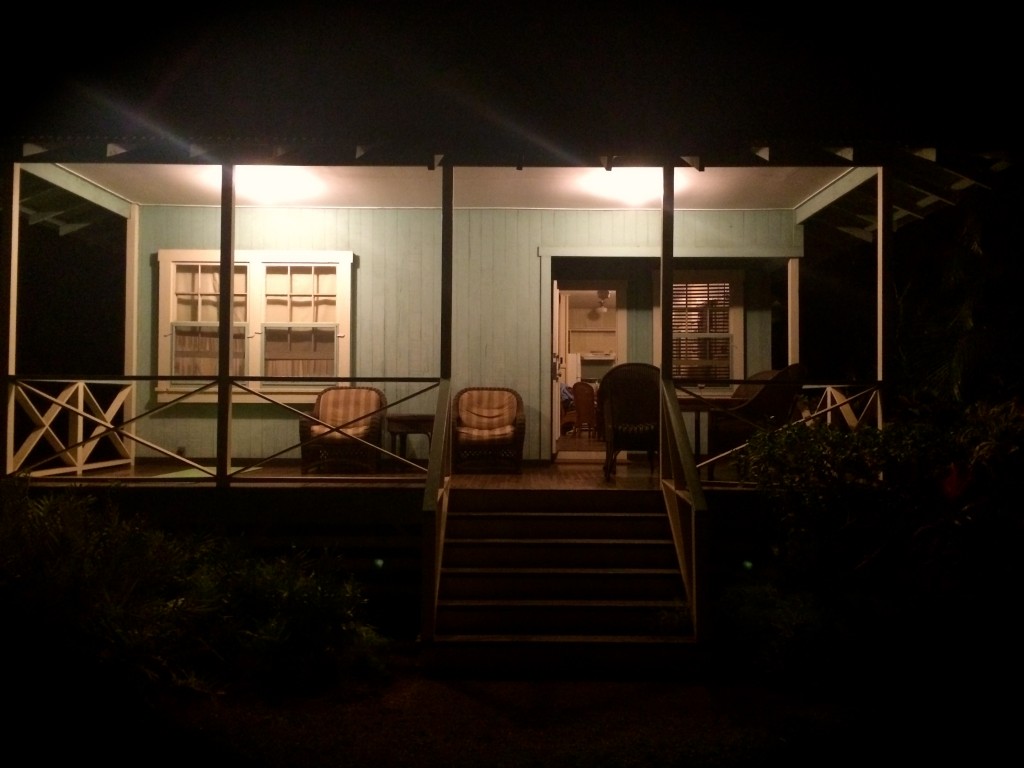 Here's me reading poolside, blocking the blazing sun with Alice Munro: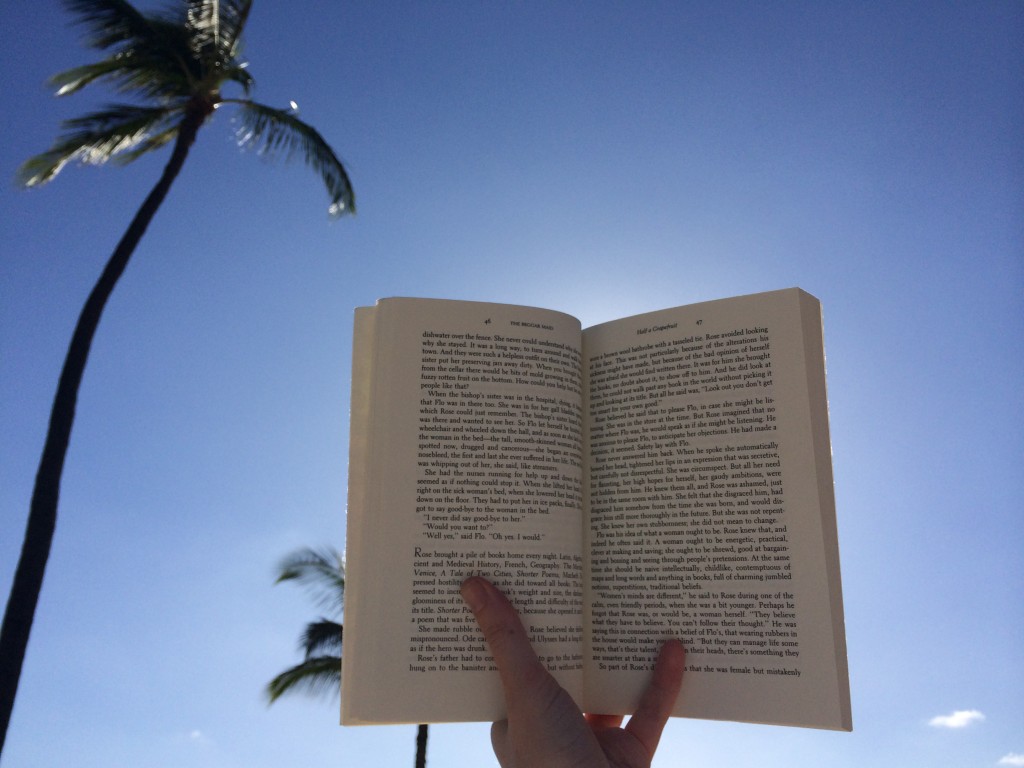 Here's a little flower on the beach: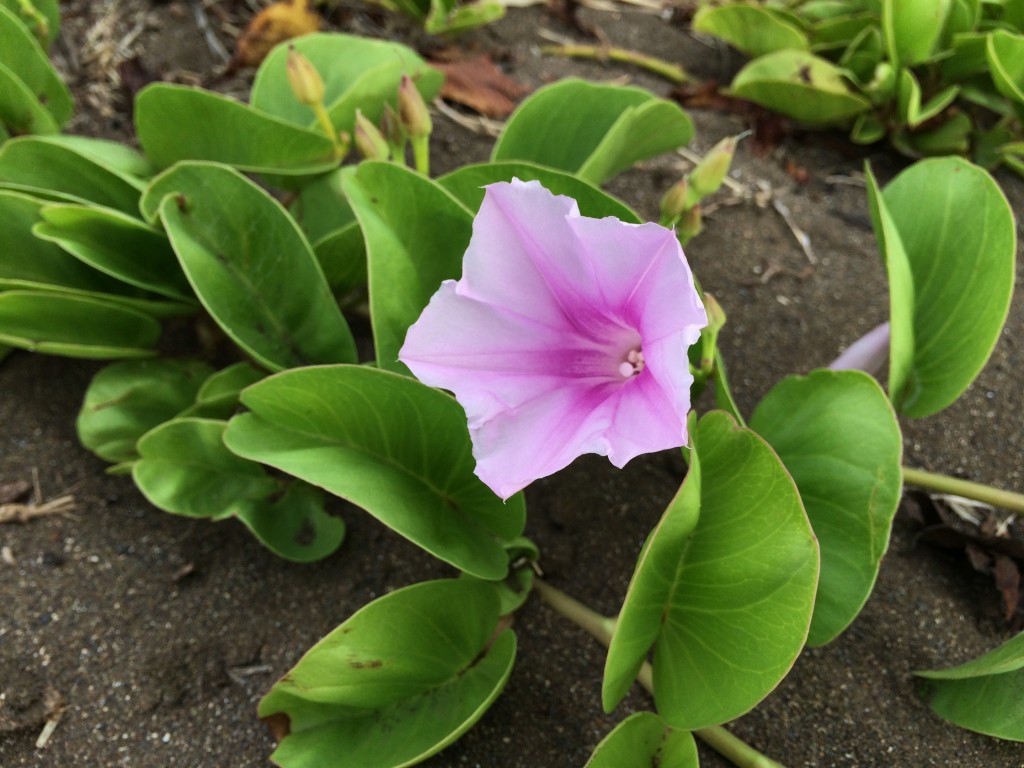 Here's a plant outside our cottage: (if you haven't noticed from my generic "flower" and "plant" captions – I don't spend a lot of time learning plant names while traveling, probably because even when someone tells me I forget them immediately.)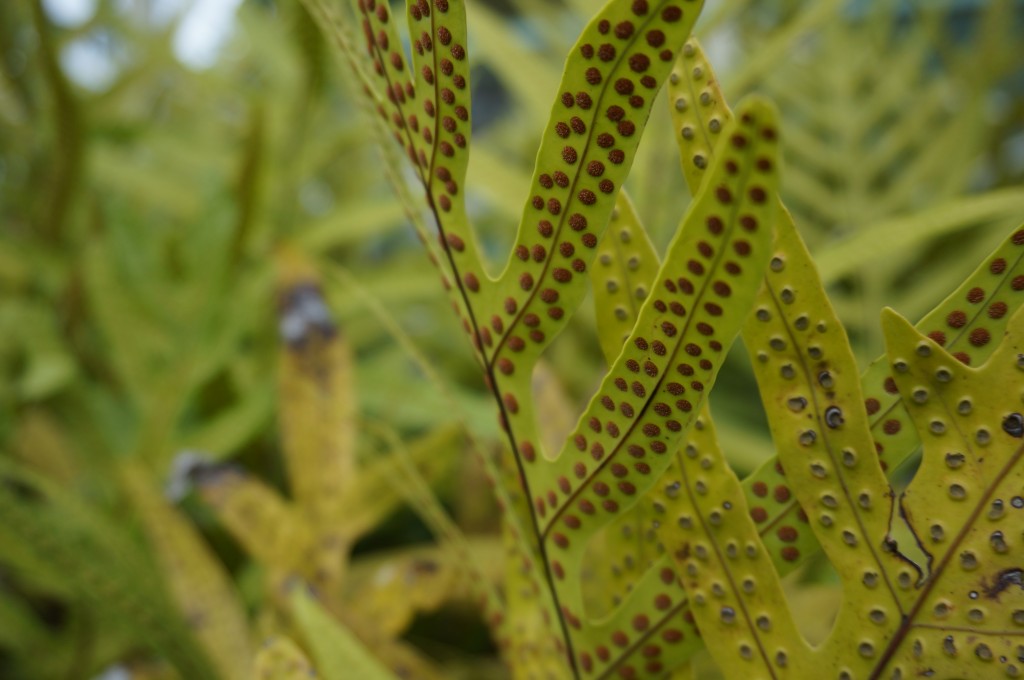 Here are some of the roosters that ensure you have the opportunity to get up and watch the sunrise, should you want to: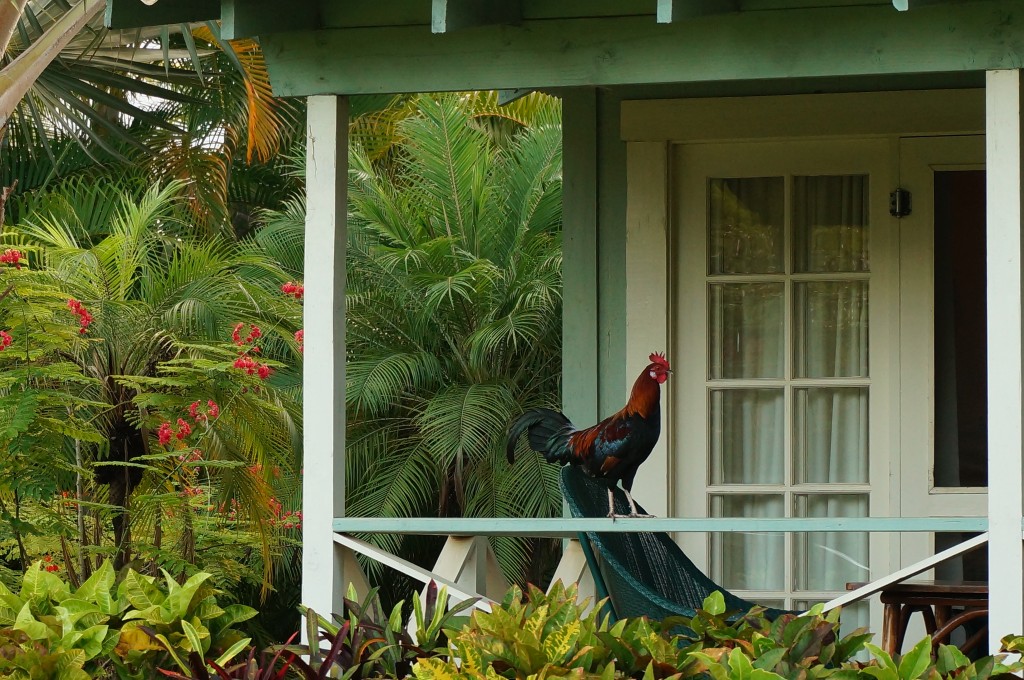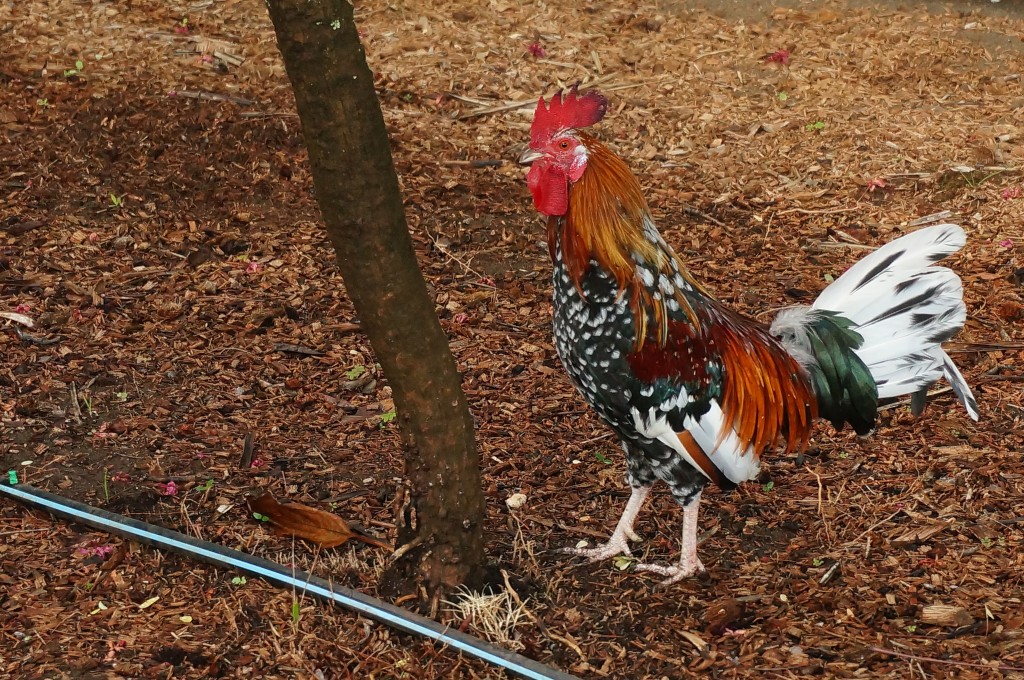 Now please indulge me while I talk about the Kauai sunrises. The photos below don't come close to doing justice to the incredible light, colors, and the feeling of being on the beach with the waves rolling in, roosters crowing, and daylight breaking. But they're still beautiful. Looking at them takes me back to the serene hour I spent on the beach every morning, where I felt more relaxed and at peace than I ever have in my adult life.
Every morning in Kauai I woke up at 5:30am, made a pot of coffee and a peanut butter and jelly sandwich, and walked 2 minutes down to the beach to watch the sunrise.
The walk was always very dark, with the coconut trees blocking the moonlight and the first rays of sunlight from the east. When I got down to the beach I had enough light to set up a little spot on the sand with my coffee mug, food, notebook and cameras: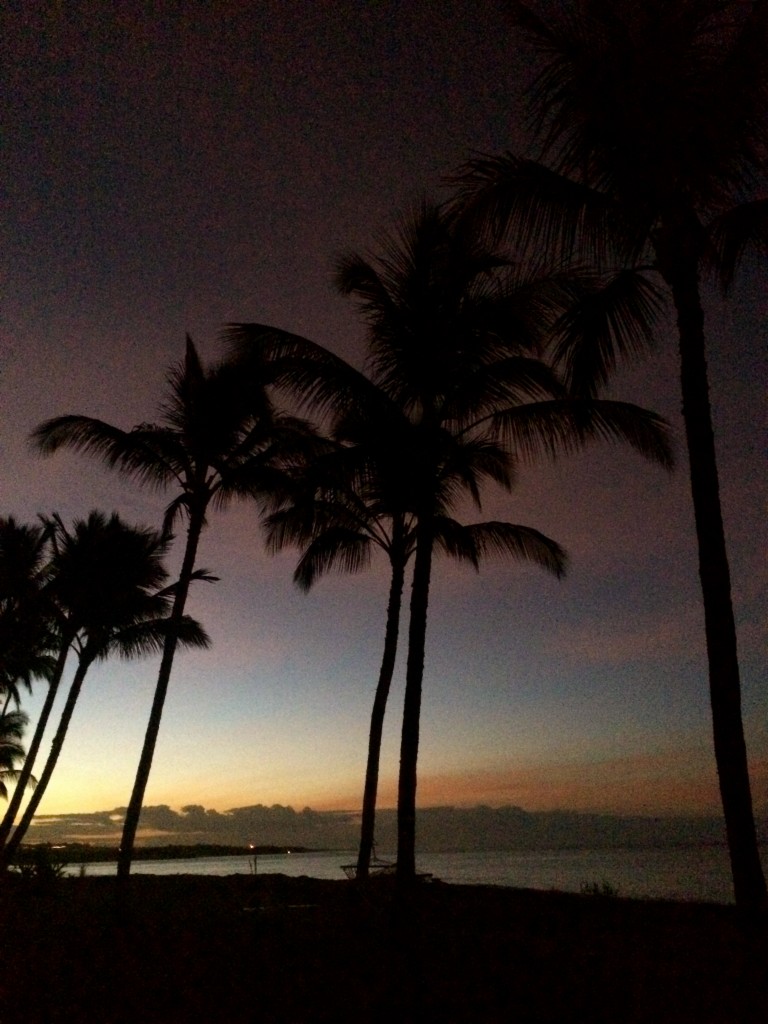 Almost immediately the light would begin to change as the sun started to rise: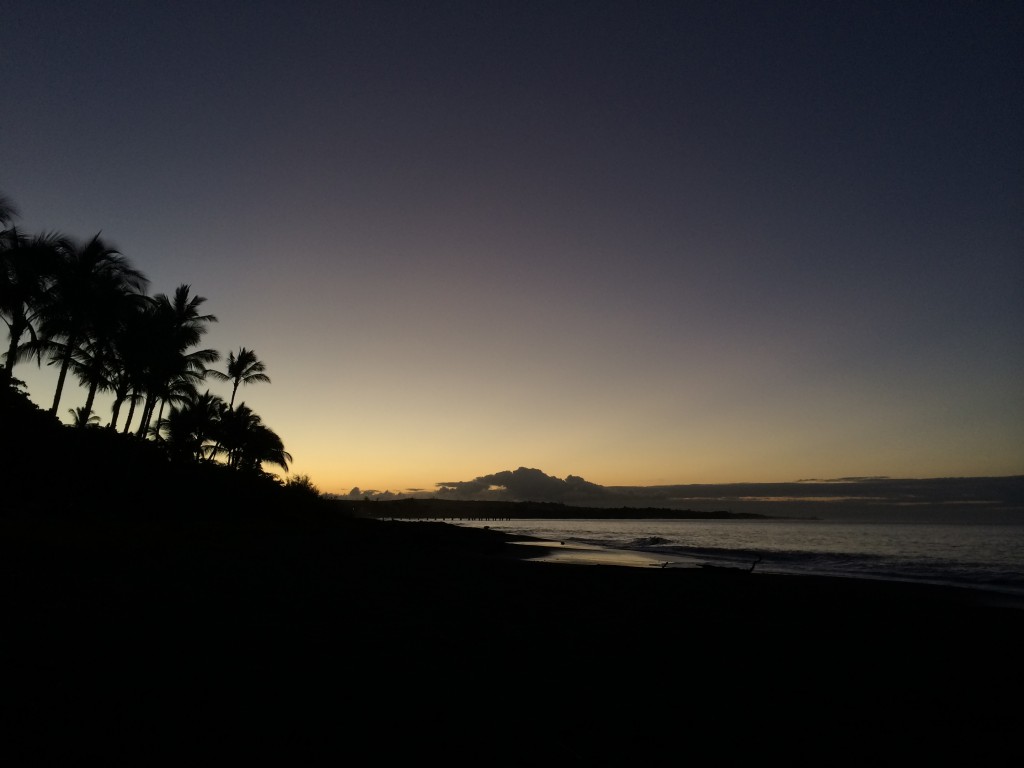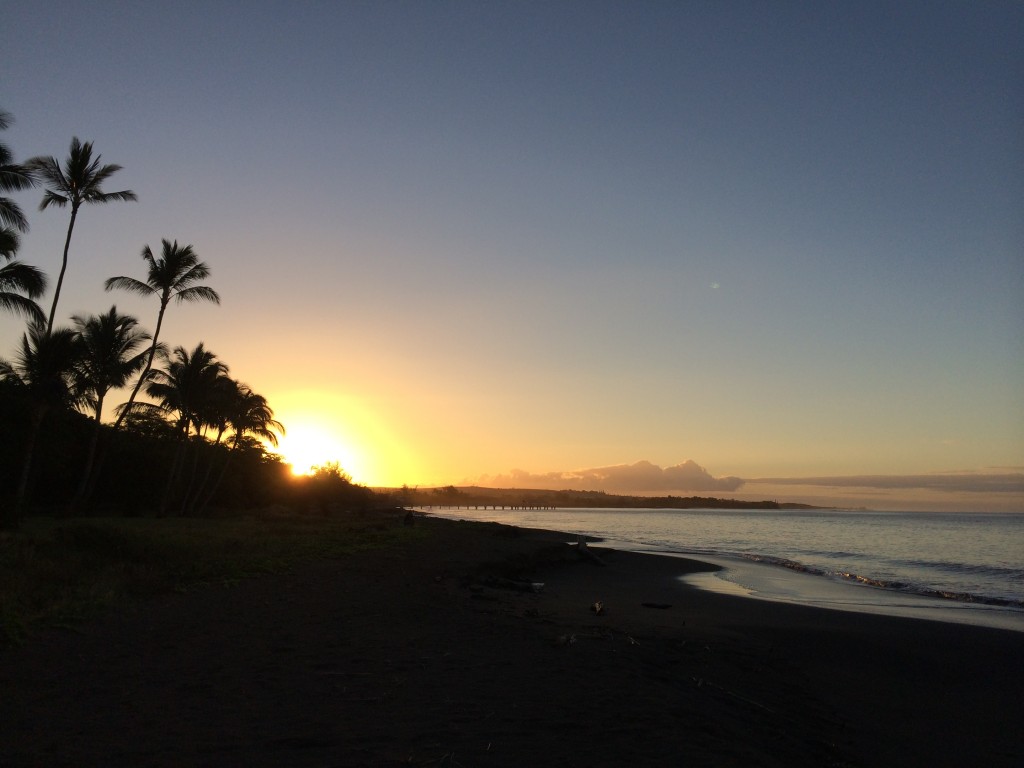 Every day it looked entirely different, based on the clouds and the weather: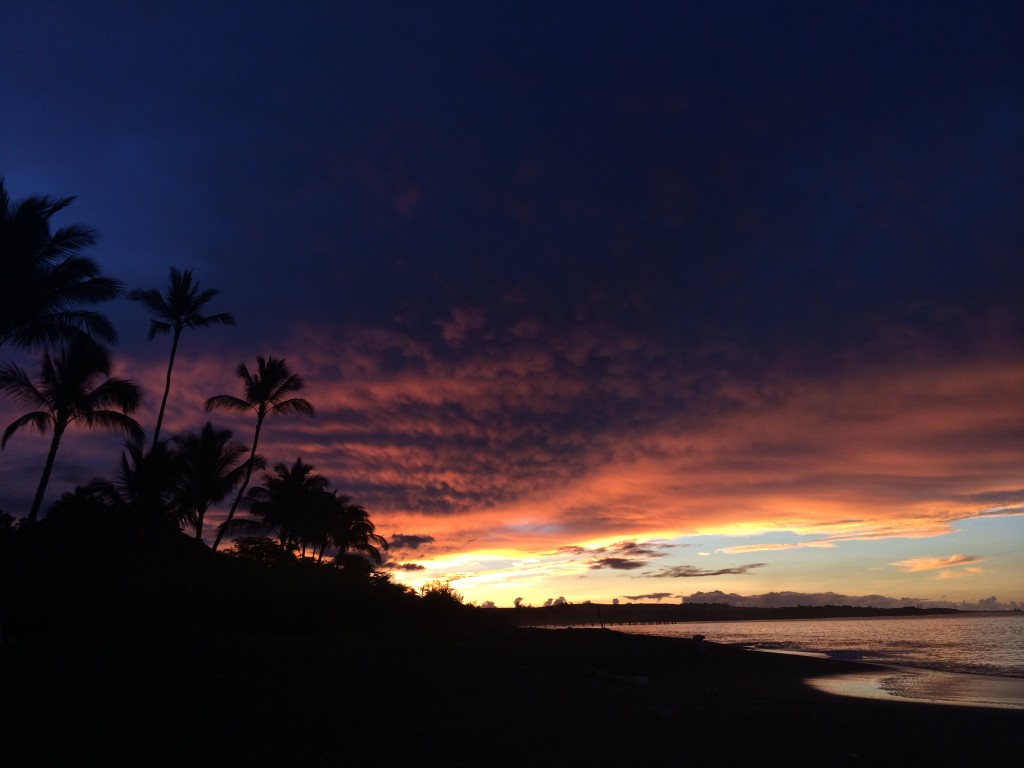 One day it seemed as if it was going to be a fairly standard sunrise, when suddenly the sky burst into the most beautiful colors I've ever seen, and reflected a calm purple onto the ocean: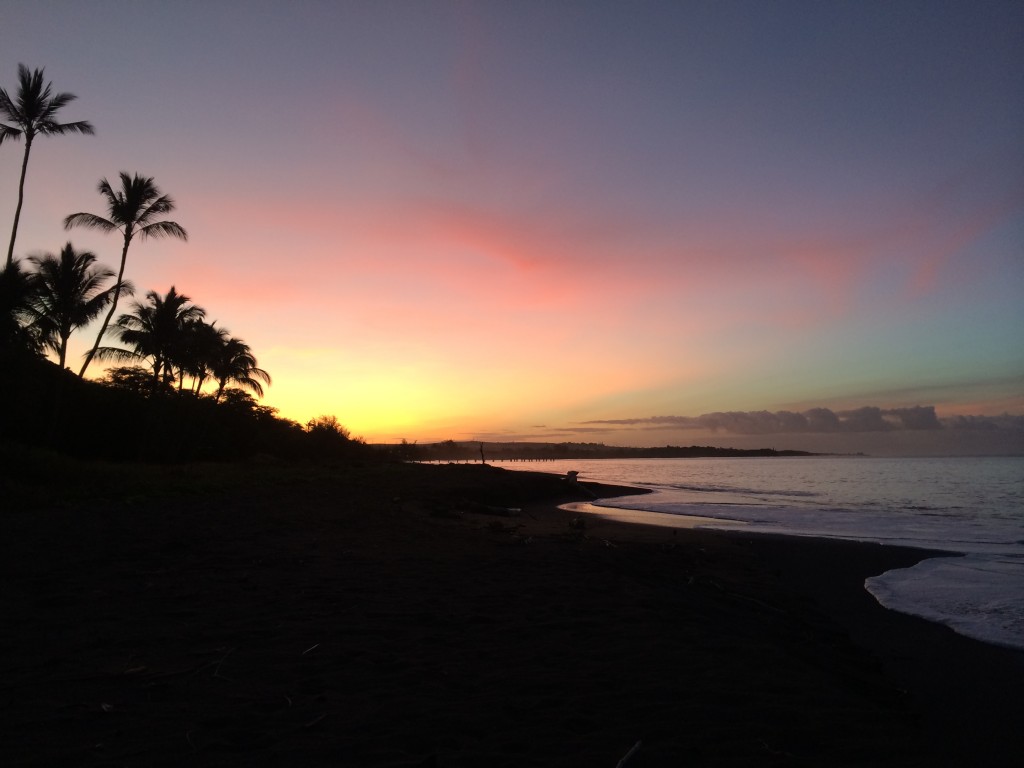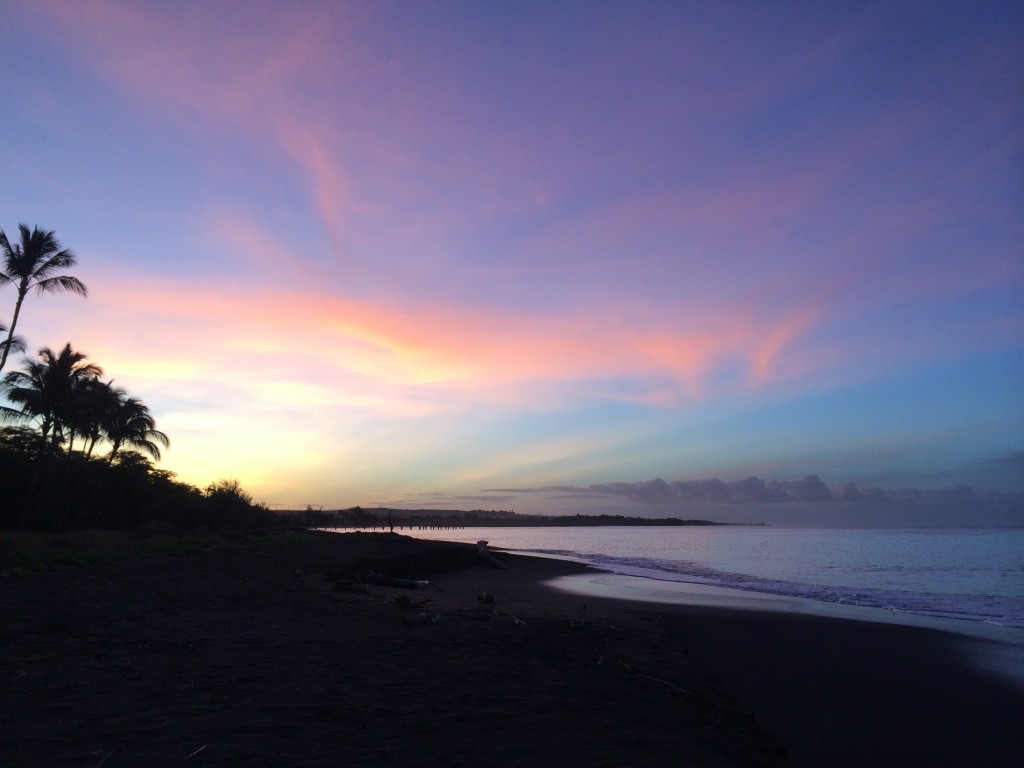 The waves were almost as hypnotizing as the changing colors in the sky:
Kauai Waves at sunrise from chowmeyow on Vimeo.
My favorite thing about each sunrise was that if you turned to look west, the sea and coast were submerged in a pink and purple mist – every single morning. The haze on the western side of the island gave everything a magical feel – as if a ship was just about to emerge from the mist and take you away to sea. Every day it looked a bit different, but always pink and purple, always hazy. Here are my favorite photos: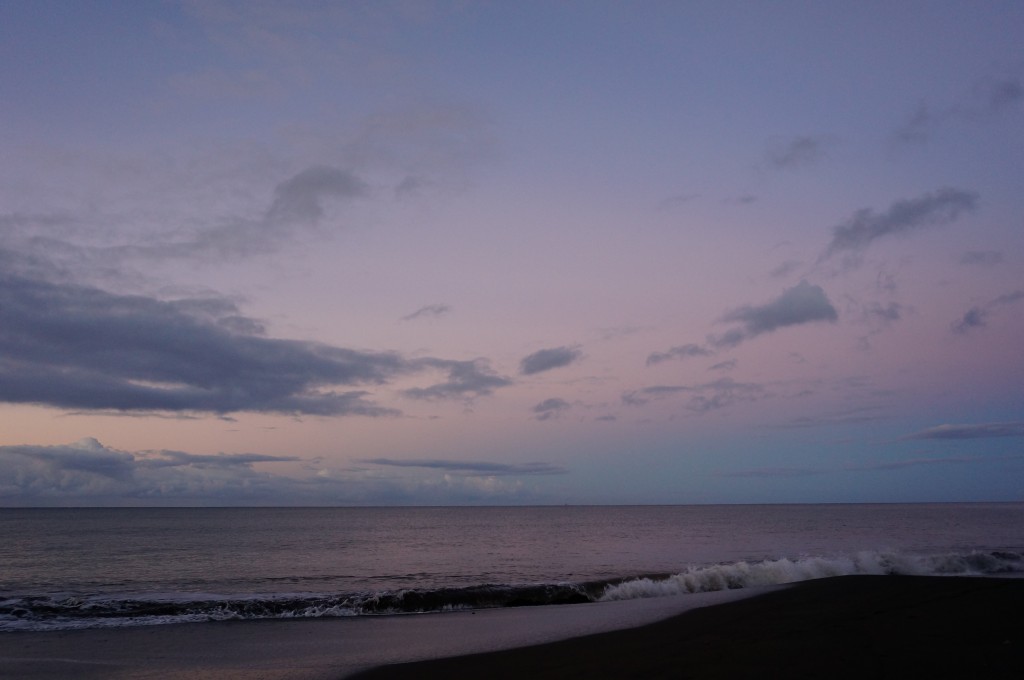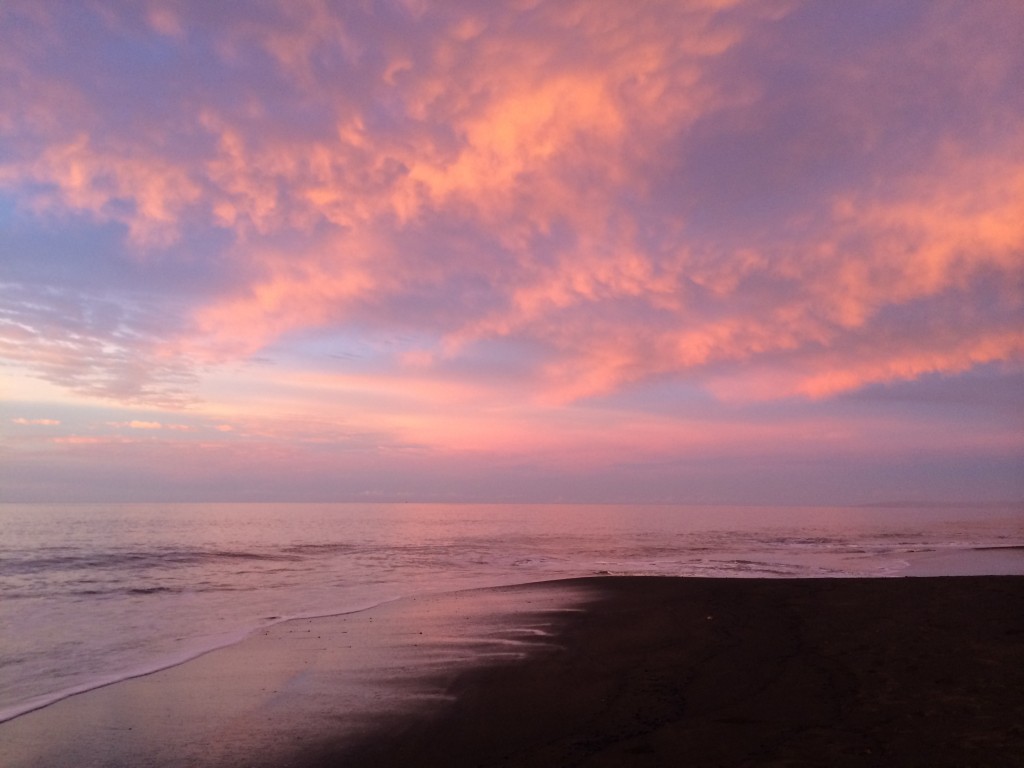 After the sun had risen to my satisfaction, I walked back to the cottage, passing the pool, which looked especially nice in the morning light: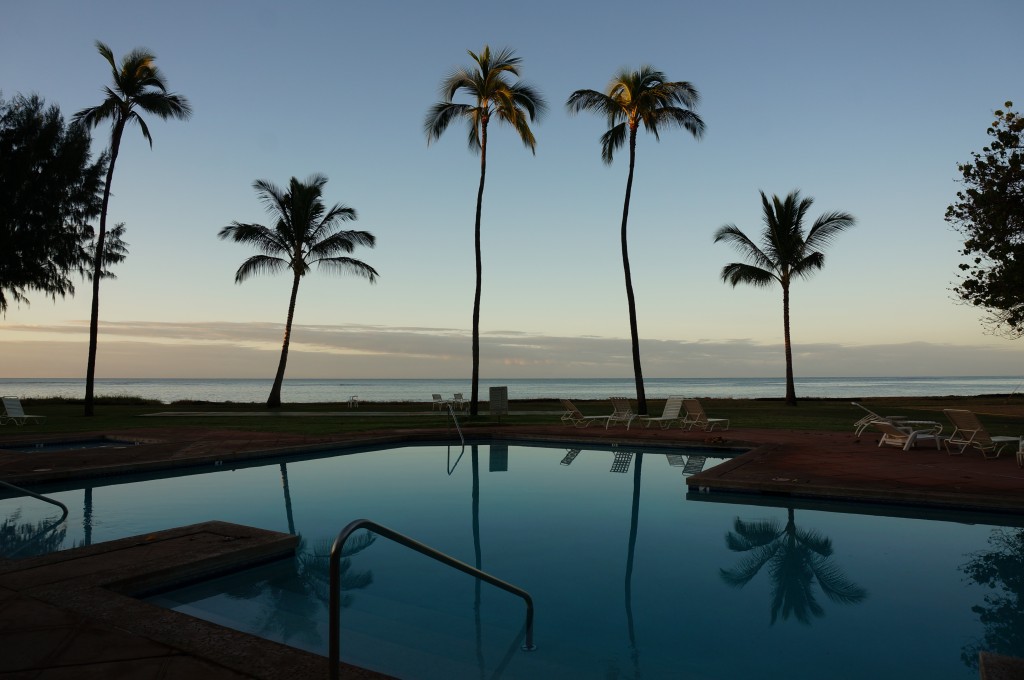 If at any point during the rest of my life someone offers me the chance to teleport somewhere, Kauai at sunrise will be at the top of my list.