When life hands you huge travel delays, well… more blogging and reading time! A plane part is flying across Michigan as I type to fix our plane in Grand Rapids. Then I will eventually fly to Detroit myself and then on home to Brooklyn. It's a beautiful Saturday and I'm rooting for my Spartans to beat the Fighting Irish tonight in South Bend.
While I wait, I'm reading Traveling Sprinkler by Nicholson Baker, which is the sequel to one of my favorite novels, The Anthologist. I'm also catching up on what on earth the internet has been up to – I missed a lot this week while traveling & attending a work conference.
Here's what I've enjoyed:
– BuzzFeed's tribute to majestic pugs made my day. Pugs are heroes.
– A Bookworm's Life's Autumnal Pursuits is a lovely tribute to the loveliest season. It made me want to bake an apple pie immediately.
– At my work conference this week, I got to meet a lot of my fantastic co-workers in person for the first time. Among them was a true kindred spirit that became a fast friend, and I've enjoyed discovering and reading her tumblr, Hello You, Hello Me.
– If my flight gets even MORE delayed, I have two backup books in my carry on – two of Walter Isaacson's biographies, Benjamin Franklin and Steve Jobs. He spoke at the conference this week and was charming and captivating. I own his Einstein biography already, and ran out and bought these two right after hearing him speak.
– Another literary blog I've recently discovered (thanks to a friend on Twitter) is Farnam Street. It's an absolute delight.
I'm also reading the new issue of Mental Floss, which in my opinion is the best magazine to read while traveling, or anytime really.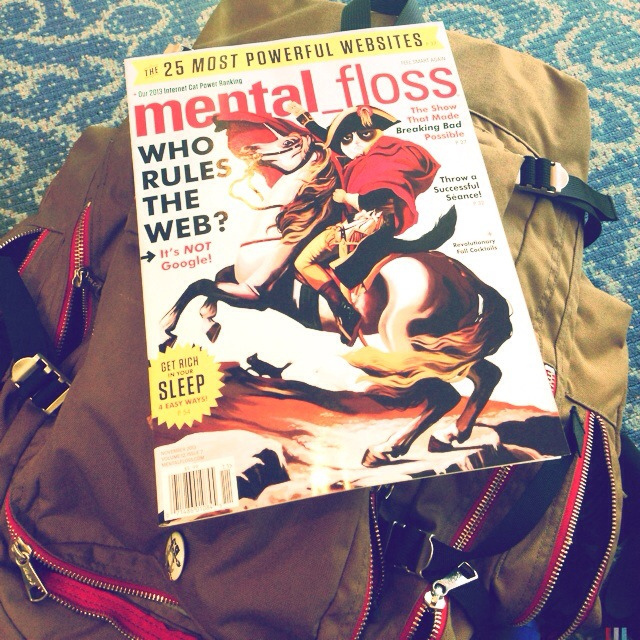 So here's to a beautiful Saturday, wherever you are!