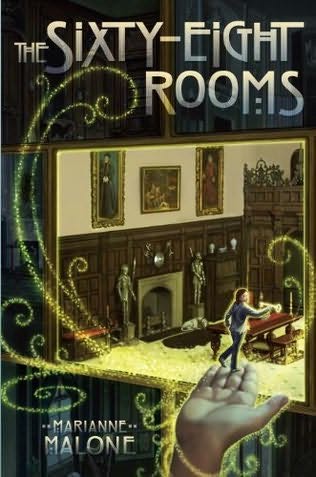 Title: The Sixty-Eight Rooms
Author: Marianne Malone
Published: 2010
My edition: Random House Hardcover 2010
Purchased From: Barnes and Noble Greenwich Village
Pages: 269
Synopsis (from Strand): Every Chicagoan knows about the Thorne Rooms in the Art Institute of Chicago. Sixty-eight miniature rooms, depicting rooms from European homes throughout the centuries, in immaculate detail, precise right down to the tiny rugs and doorknobs. Sixty-eight rooms so marvelously real that they seem magic. And for Ruthie, they are. Because she has found a key that allows her to shrink down to a size where she can explore the rooms, and discover their secrets. Small enough to find that someone has been in the rooms before her, and left important clues behind.
I read this because: I love the Thorne Rooms, they are my favorite part of the Art Institute of Chicago. Combining these lovely rooms with children's literature is a perfect fit. Also – if ever one was to judge a book by its cover, this one pretty much takes the cake. I have Kelly to thank for giving me a heads up that this book was about to be released, and you can read her review here. Thanks Kelly!
My thoughts: What a magical book. There's a lot to love about it: likable characters, unique setting, good writing, magic, adventure, mystery, and tiny things. A great read and a wonderful escape into a magical world.
If you don't enjoy reading children's books yourself, first of all take a moment and think about when exactly it was that you lost your soul. :) Seriously though, if you're not interested in this for yourself, it would make a great gift for any child in your life.
Book club worthy? For book clubs interested in children's literature, definitely yes.
Follow up required: Reading this really makes me want to go back and visit the Thorne Rooms again soon. I also really hope there will be a sequel.
You might like this book if you like: From the Mixed Up Files of Mrs. Basil E. Frankweiler by E. L. Konigsburg, The Penderwicks by Jeanne Birdsall 
Links to purchase: IndieBound, Amazon, Barnes and Noble, Book Depository, Strand
My favorite passage:

It was the feeling you sometimes get when leaving the darkness of a theatre after a really exciting movie – you notice how the world around you is exactly the same as when you went in, only you feel different. (page 45)