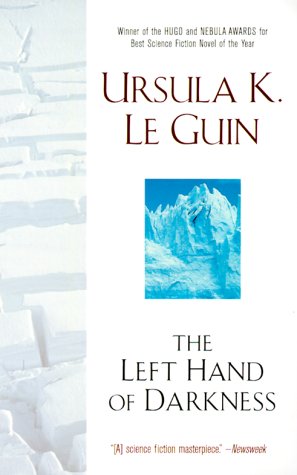 Title: The Left Hand of Darkness
Author: Ursula K. Le Guin
Published: 1969
My edition: Ace Paperback 2000
Purchased From: Barnes and Noble Lincoln Square
Pages: 304
Synopsis (from Strand): Winner of HUGO and NEBULA Awards for Best Science Fiction Novel of the Year. The story of a lone human emissary's mission to Winter, an unknown alien world whose inhabitants can choose – and change – their gender. His goal is to facilitate Winter's inclusion in a growing intergalactic civilization. But to do so he must bridge the gulf between his own views and those of the completely dissimilar culture that he encounters. Completely embracing the aspects of psychology, society, and human emotion on an alien world, the novel stands as a landmark achievement in the annals of intellectual science fiction.
I read this because: Ursula K. Le Guin is an author I've meant to read for a long time. My book club also selected this as our January book, which gave me the perfect reason to stop dilly-dallying.
My thoughts: I didn't really go into this book knowing much about the plot or what it was like, but I was surprised by how much I enjoyed it. I think I was expecting more of a epic story, with dozens of characters and an intricate plot. I liked that the focus was on the relationship between Genly and Estraven, and on Genly's personal challenges and growth.
Book club worthy? Yes, my book club's discussion of this was fantastic. It's the sort of book that you want to talk to people about after you finish it.
Follow up required: I'd like to read more of her work, most likely starting with A Wizard of Earthsea. I also own a collection of her short stories.
You might like this book if you like: I haven't read a lot of Science Fiction, so the only thing I've read that I find it at all similar to is Margaret Atwood's novels. I think it's the style and creativity that I find comparable.

Links to purchase: Indie Bound, Amazon, Barnes and Noble, Book Depository
My favorite lines & passages:

I am not trying to say that I was happy, during those weeks of hauling a sledge across an ice-sheet in the dead of winter. I was hungry, overstrained, and often anxious, and it all got worse the longer it went on. I certainly wasn't happy. Happiness has to do with reason, and only reason earns it. What I was given was the thing you can't earn, and can't keep, and often don't even recognize at the time; I mean joy. (page 241-2)
To learn which questions are unanswerable, and not to answer them: this skill is most needful in times of stress and darkness. (page 151)
Extras: New Yorker Interview with Ursula K. Le Guin about The Left Hand of Darkness, Communal book club discussion from NewYorker.com