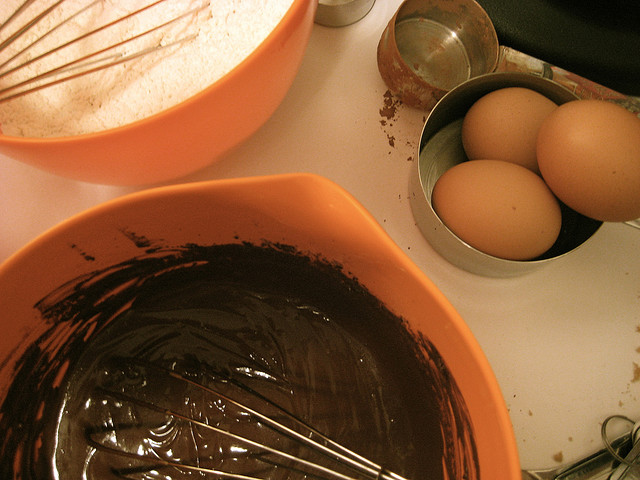 My favorite cupcakes are chocolate cupcakes with vanilla icing. I love the deep chocolate flavor in the cake, balanced by creamy vanilla frosting. But despite it being my go-to cupcake at bakeries, I had never tried to make them myself.
This week I wanted to make Harry Potter themed treats to bring into work to celebrate Harry Potter day on Wednesday (the movie release of Harry Potter and the Half Blood Prince – which our COO took anyone who wanted to see it to the IMAX showing at 10am, amazing!). I knew I wanted to make and decorate cupcakes, and devil's food cake seemed perfect for the theme – dark and delicious, and a bit evil.
I wanted a deep chocolate flavor – more chocolate-y than sweet. They also had to be incredibly moist – dry cupcakes are the worst.
I turned to my go-to source for good baking recipes – America's Test Kitchen Family Baking Book. I can't recommend this book highly enough, all their recipes turn out fantastic.
I've adapted the baking instructions for cupcakes, instead of a layer cake.
Devil's Food Cupcakes
For an accurate measurement of boiling water, bring a full kettle of water to a boil and then measure out the desired amount.
1 & 1/2 cups all-purpose flour
1 teaspoon baking soda
1/2 teaspoon baking powder
1/4 teaspoon salt
1 & 1/4 cups boiling water
4 ounces unsweetened chocolate, chopped
1 teaspoon instant coffee
1/2 cup Dutch-processed cocoa powder
10 tablespoons (1 and 1/4 sticks) unsalted butter, softened
1 & 1/2 cups packed light brown sugar
3 large eggs, room temperature
1/2 cup sour cream, room temperature
1 teaspoon vanilla extract
1. Heat the oven to 350 degrees. Line cupcake tins with cupcake papers.
2. Whisk the flour, baking soda, baking powder, and salt together in a large bowl. In a medium bowl, whisk the boiling water, chocolate, cocoa powder, and instant coffee together until smooth.
3. In a large bowl, beat the butter and sugar together with an electric mixer on medium speed until light and fluffy, 3 to 6 minutes. Beat in the eggs, one at a time, until combined, about 30 seconds. Beat in the sour cream and vanilla until incorporated.
4. Reduce the mixer speed to low and beat in one-third of the flour mixture, followed by half of the chocolate mixture. Repeat with half of the remaining flour mixture and the remaining chocolate mixture. Beat in the remaining flour mixture until just incorporated. (Do not overmix.)
5. Give the batter a final stir with a rubber spatula to make sure it is thoroughly combined. Use an ice cream scooper to fill the cupcake papers about 2/3 full. Tap the pans lightly on the counter to settle the batter. Bake about 13-15 minutes, turning the pans in the oven carefully half-way through. A tester inserted into the center of a cupcake should come out with a few crumbs attached.
6. Let the cupcakes cool in the pan for 5 minutes, and then move to a wire cooling rack. Cool completely before frosting with your favorite frosting.
Makes 30 cupcakes.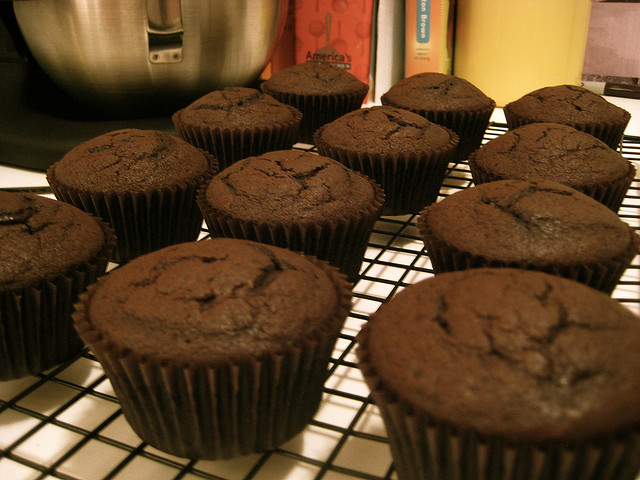 I think I could have shortened the bake time on these a little bit (which I've noted in the recipe, next time I'll try 13 minutes instead of 15), and they would have been a little more moist, but they were still incredible. I will definitely be making this recipe often.
The key to this recipe's success is the instant coffee, which helps bring out the chocolate flavors (you won't be able to taste the coffee flavor) and the brown sugar and sour cream for moisture.
Decorating:
I wanted to decorate these to match the Hogwarts house colors, so that people could be Sorted to find out which cupcake they get. I used vanilla buttercream frosting, separated it into four bowls, and dyed each a base color of one of the houses. Then I used colored sprinkles for the accent colors. I got all my supplies at the NY Baking Supply Store, but you could probably find a lot of similar supplies online at the new (and charming) Layer Cake Shop.
Here are the colors I used:
Burgundy and Yellow: Gryffindor
Yellow and Purple: Hufflepuff
Blue and Silver: Ravenclaw
Green and Silver: Slytherin
I thought about doing one of the actual sorting hat quizzes online to sort people, but sorting over 20 co-workers that way (many of whom are Harry Potter fans, but definitely not all) would not be fun. So I printed slips of paper with each house shield on them, and people drew a slip to find out their house. This also worked better because it ensured that I had enough cupcakes to match all the sorting.
The cupcakes were delicious, and decorating them was very fun. I loved the movie, and it was a wonderful Harry Potter day! :)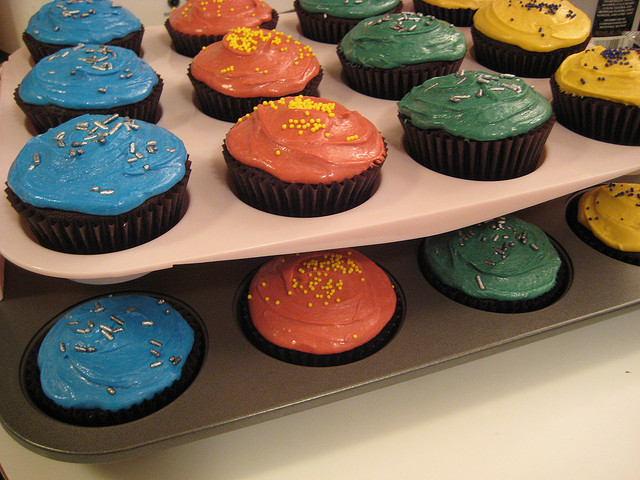 (This post was brought over from emilyw.vox.com)