I usually buy a lot of books as gifts during the holidays. This is probably not a surprise to anyone. :)
A few days ago I found out that there's a new site devoted to encouraging books as gifts this holiday season. It's called Buy Books for the Holidays. They have a lot of shopping advice and recommendations, and a badge you can add to your blog to show that you're buying books for the holidays too: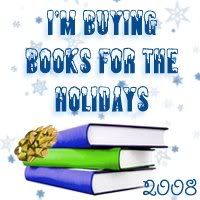 I usually buy all sorts of different books, depending on who I'm shopping for. Unless I know specifically what book(s) someone wants, I usually like to get them something I've read before that I think they'll enjoy. I feel funny about buying a book I haven't read for someone.
The books I buy usually end up being books I read that year, too. There are always a few books that stand out as books I think many of my friends and family members would enjoy too.
This year, here are a few books that I'm giving as gifts:
-I Capture the Castle by Dodie Smith
-The Diving Bell and the Butterfly by Jean-Dominique Bauby
-The Code of the Woosters by P. G. Wodehouse
And of course, my Christmas wish list is almost entirely books. :)
Do you give books as gifts? What books are you buying for others this year?
(This post was brought over from emilyw.vox.com. Click here for the original post and comments.)