Better late than never?
Books Purchased (or in this case, received as gifts!):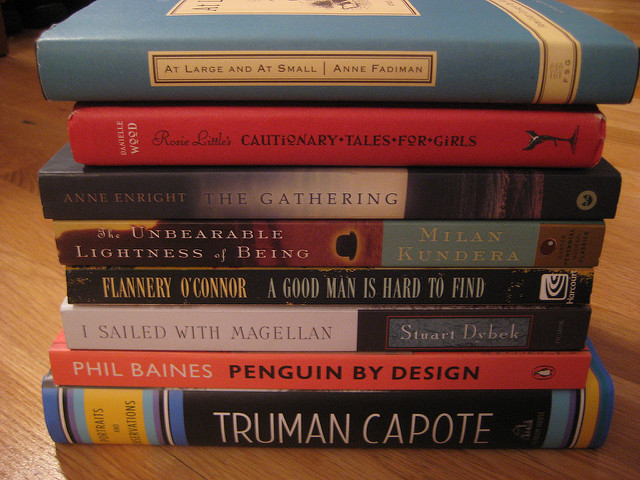 The Unbearable Lightness of Being by Milan Kundera (gift)
Penguin by Design by Phil Baines (gift)
Rosie Little's Cautionary Tales for Girls by Danielle Wood (gift)
Portraits and Observatios: The Essays of Truman Capote (gift)
At Large and At Small: Familiar Essays by Anne Fadiman (gift)
A Good Man is Hard to Find, and other stories by Flannery O'Connor (gift)
The Gathering by Anne Enright (gift)
I Sailed With Magellan by Stuart Dybek (gift)

Books Read (most of my books read this month were library books that had to go back to the library before I left for vacation, hence the two photos):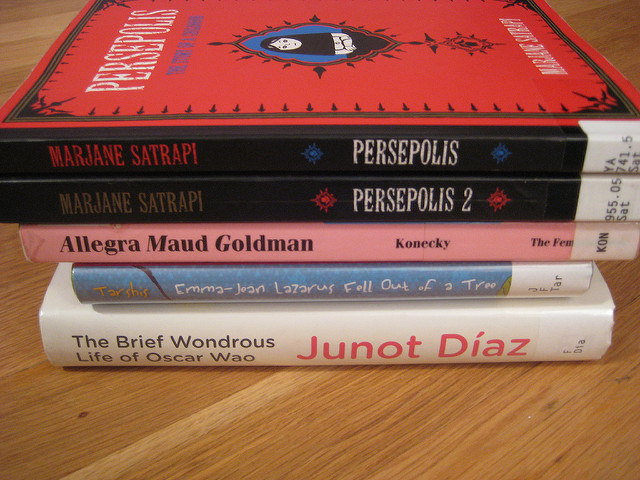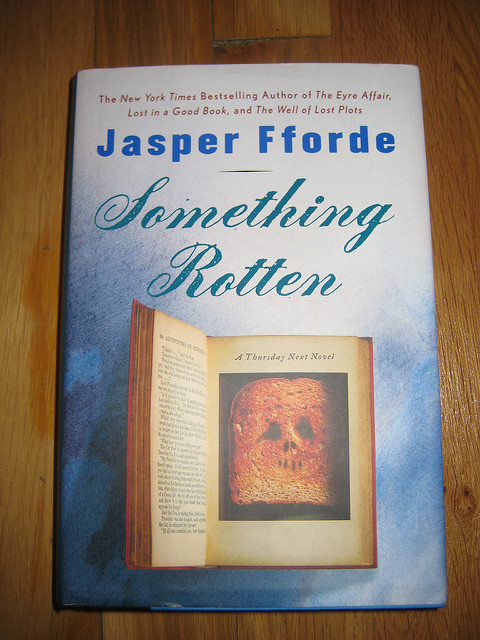 Allegra Maud Goldman by Edith Konecky (library)
Persepolis by Marjane Satrapi (library)
The Brief Wondrous Life of Oscar Wao by Junot Diaz (library)
Emma-Jean Lazarus Fell Out of a Tree by Lauren Tarshis (library)
Persepolis 2 by Marjane Satrapi (library)
Something Rotten by Jasper Fforde
I was pretty amazed that I managed to not purchase any books for myself this month. In fact I'm downright suspicious, I keep thinking I must have missed something. I loved all the books I received as gifts.
It was a good month for reading as well. I was a little disappointed with Allegra Maud Goldman, but only because my expectations were set way too high. (Nancy Pearl compared Allegra to Haven Kimmel's Zippy, only Jewish and set in the 70s.) Allegra Maud Goldman was a great young adult book, but I've learned I should not begin a book with the hopes of loving it as much as A Girl Named Zippy, that's setting myself up for huge disappointment.
I loved Persepolis and Persepolis 2. These were the first graphic novels I've ever read. I'm excited to see the movie Persepolis, I've heard it's excellent.
The Brief Wondrous Life of Oscar Wao was great. I don't think I loved it as much as other people have seemed to, but it was a very enjoyable read. I wish I could think of more to say about it. How about a favorite quote? "That's life for you. All the happiness you gather for yourself, it will sweep away like it's nothing. If you ask me I don't think there are any such things as curses. I think there is only life. That's enough."

Emma-Jean Lazarus Fell Out of a Tree was excellent. It's a kid's book whose spunky, precocious star reminds me a lot of my favorite literary friends when I was young: Ramona, Veronica the Show-Off, Alice, etc.
Something Rotten made me sob. I wasn't expecting that. It's by far my favorite book in the Thursday Next series, so far. My crying wasn't because it was sad, but because it was so affecting, in a very unusual way. I wish I could say more, but it would spoil it.
(This post was brought over from emilyw.vox.com.)