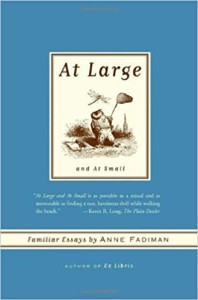 An important quality of a  good essayist is their ability to  write about a topic you (the reader) have no previous history of caring about and yet still manage to captivate you with the subject matter.
An even better essayist will not only hold your attention long enough to finish reading their essay, but spark a newfound interest in the subject  and even lead you to pursue more information on your own.
My first Anne Fadiman book was Ex Libris, which was an absolute treat to read. Subtitled "Confessions of Common Reader" – it's clear that this is a subject I can relate to and enjoy. And I did… I loved this book and recommend it to everyone who enjoys books and reading.
In At Large and At Small, Anne Fadiman is even more brilliant. This collection of Familiar Essays covers a wider range of interests, each masterfully written. The topics include Collecting Nature, Charles Lamb, Ice Cream, being a Night Owl, Culture Wars, Samuel Taylor Coleridge, the pleasures of Mail, Moving, the American Flag, the Arctic explorer Vilhjalmur Stefansson, Coffee, and an important realization. It would be hard to pick a favorite, but both "Mail" and "The Unfuzzy Lamb" were particularly wonderful.
An important thing to explain about Anne Fadiman is her meaning behind the term "Familiar Essay," of which she is an enthusiastic advocate. In her own words:
"Familiar Essay" isn't a term one hears often these days. The genre's heyday was the early nineteenth century, when Charles Lamb was dreaming up The Essays of Elia under of the influence of brandy and tobacco and William Hazlitt was dashing off Table Talk under the influence of strong tea. The familiar essayist didn't speak to the millions; he spoke to one reader, as if the two of them were sitting side by side in front of a crackling fire with their cravats loosened, their favorite stimulants at hand, and a long evening of conversation stretching before them. His viewpoint was subjective, his frame of reference concrete, his style digressive, his eccentricities conspicuous, and his laughter usually at his own expense. And though he wrote about himself, he also wrote about a subject, something with which he was so familiar, and about which he was often so enthusiastic, that his words were suffused with a lover's intimacy.

I loved this book so much that halfway through I stopped and ordered Best American Essays 2003 from Amazon, the volume she guest edited. I decided that I have complete faith in her ability to select other brilliant essays for me to read as well.  I already own and need to read Rereadings –  another book she edited. I also yoinked my mom's copy of The Essays of Elia by Charles Lamb and brought it back to discover its charms for myself.
(This post was brought over from emilyw.vox.com.)