My favorite holiday recipe is Chocolate Covered Pretzels. It's not, of course, strictly a holiday food, but it feels very Christmas-y to me. I first had them when one of my favorite high school teachers brought them in for us on the last day of school before Christmas break, and since then I've made them every Christmas and shared them with friends and family. I actually just made some tonight, to bring to our secret santa exchange at work tomorrow.
You buy a bag of small pretzels, a bag of Hershey's kisses, and a medium bag of m&ms.
Preheat the oven to 250 degrees.
Arrange some pretzels (no broken ones) on a cookie sheet, in a single layer.
Unwrap the kisses and put one in the center of each pretzel.
Put them in the oven for 5 minutes.
Remove and immediately smoosh down the melted kisses in the center with an m&m.
Make sure the 'm' side is up.
Let most of them cool, but eat a few of them a little bit after removing from the oven while they are still melty and warm. Those ones will be extra delicious. The rest need to cool for several hours before you can move them around and safely stack them for storage or travel.
Make as many as you want, but the kisses will usually run out first (unless you buy a personal size bag of m&ms and not the big bag) so get a few bags of kisses if you want to make a lot.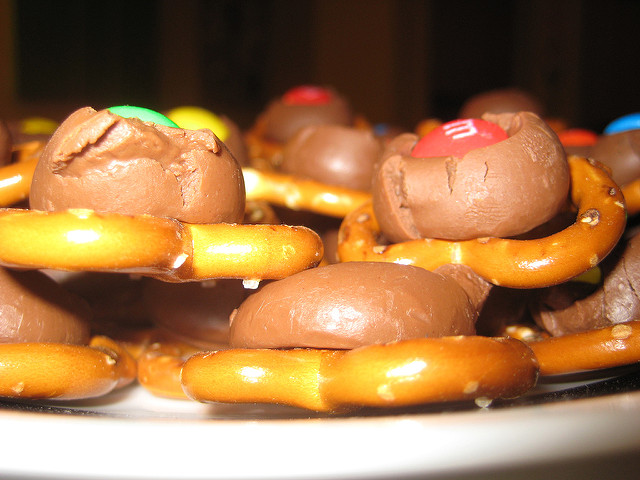 (This post was brought over from emilyw.vox.com.)