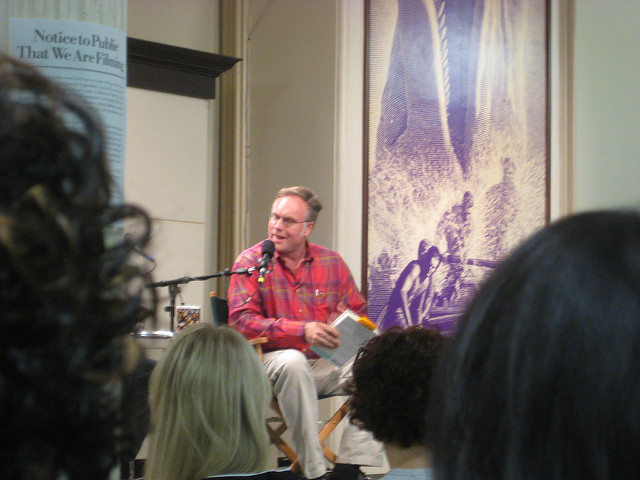 A few weeks ago I went to the most inspiring book event I've ever been to. It was for John Elder Robison and his new book,
Look Me in the Eye
. It's a memoir about growing up with Asperger's Syndrome. The book is incredible, and the event was so much fun. Barnes and Noble's new site features videos of the big author events at Union Square, and this one can be found
here
. John also has a
great blog
.
Also, previous author events I went to are on the site now too: Garrison Keillor and Dave Barry. The Garrison Keillor event was great, and I highly recommend watching him speak in this video if you're a fan. The Dave Barry event was fun too, but he played a game with the crowd the whole time, so I'm not sure how fun that is to watch.
I finished Middlesex by Jeffery Eugenides this weekend. I don't have the energy to write the review this book deserves, but I can say that it's Pulitzer is well deserved. It's beautifully written, and moves along at a great pace. I couldn't put it down. Now I can't wait to read Eugenide's other book, The Virgin Suicides.
I also finished a charming little book of essays by Anne Fadiman that my mom recommended: Ex Libris. It's a perfect collection for lovers of books and reading. One of my favorite essays is about the difference between "carnal book lovers" and "courtly book lovers" – people who love their books to pieces and people who keep their beloved books in pristine condition.
I bought a few great books this month (including Ex Libris). One great find was a perfect hardcover copy of The Writer's Desk by Jill Krementz for only $2 at the East Lansing Public Library's used book sale. I also finally caved and purchased Book Lust by Nancy Pearl. I've resisted it for a long time because I've never needed a book to tell me more books I should read, I have a never-ending list as it is. But after looking at it several times in the store, I've realized that I really like reading what she has to say about all the books she recommends and seeing which books I've read in each category, and which ones I would add to her lists.
Right now I'm reading Mister Pip by Lloyd Jones and I Am America (and so can you!) by Stephen Colbert.
(This post was brought over from emilyw.vox.com.)