Show us something you've had for a really long time.
Submitted by dee.
If I were at home, I would have a lot more very old things to pick from. But after looking around my apartment, it seems clear that, besides my body, this copy of Where the Wild Things Are is the thing I've had for the longest amount of time. I've had it since I was quite small. When I got a little older and became interested in using all my books for a pretend library, I made a date due slip and glued it in the back of this book. I guess I was a little distracted while writing it, because I forgot the word "Wild" – thus it says "Where the Things Are" on the slip.
I still frequently wonder Where The Things Are.
This is still one of my favorite children's books of all time, and eventually I'll buy a nice hardcover copy with the caldecott medal on it. But I will never get rid of this old, trusty paperback copy.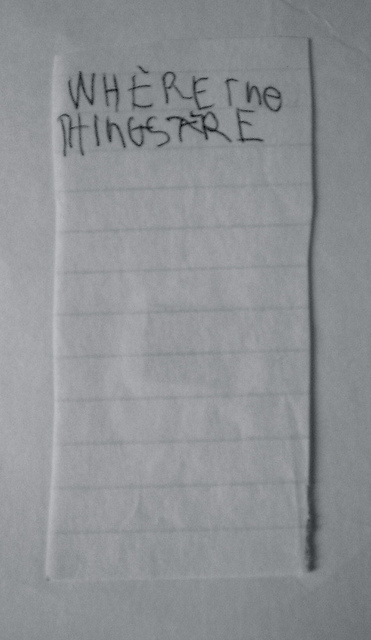 (This post was brought over from emilyw.vox.com.)