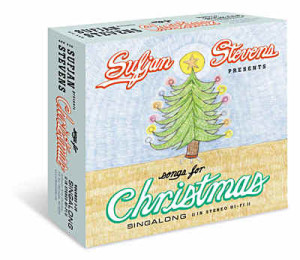 Holiday Gift Guide, Part 1
Songs for Christmas by Sufjan Stevens
To think I almost bought this set of CDs on iTunes because I could not find it in the stories. Thank goodness I finally found it, because this is one of the best packaged CDs I've ever seen. This is a boxed set of 5 Christmas CDs by the incredible singer/songwriter Sufjan Stevens.
These are fun, beautiful holiday songs. He includes a mixture of modern holiday/winter songs and traditional/religious songs. There are 5 cds, each in an excellently designed cardboard slipcover. Also included in the holiday box are color stickers, a family portrait, a holiday cartoon, and a song book with lyrics and chords. Also included are a holiday essay by Rick Moody and a short story by Sufjan.
For only $19.99 on Amazon, it makes a great holiday gift for anyone, including yourself.
(This post brought over from emilyw.vox.com.)